Julian
Senior Product Designer (UX & Visual)
Health
Product design |
Health & Fitness |
User research | Wireframes |
Visual Design | Native iOS App
Context:
The stock iOS Health app acts as a centralised hub that aggregates users' health and fitness data from all Health Kit compatible apps and displays it as a comprehensive dashboard.
Objectives:
The app is a data aggregator which by nature incurs infrequent usage. The challenge is to propose a new feature or enhancement to drive up DAU.
Skills:
User research (primary research, secondary research)
Prototyping
Visual design
Tools:
Figma
Adobe Photoshop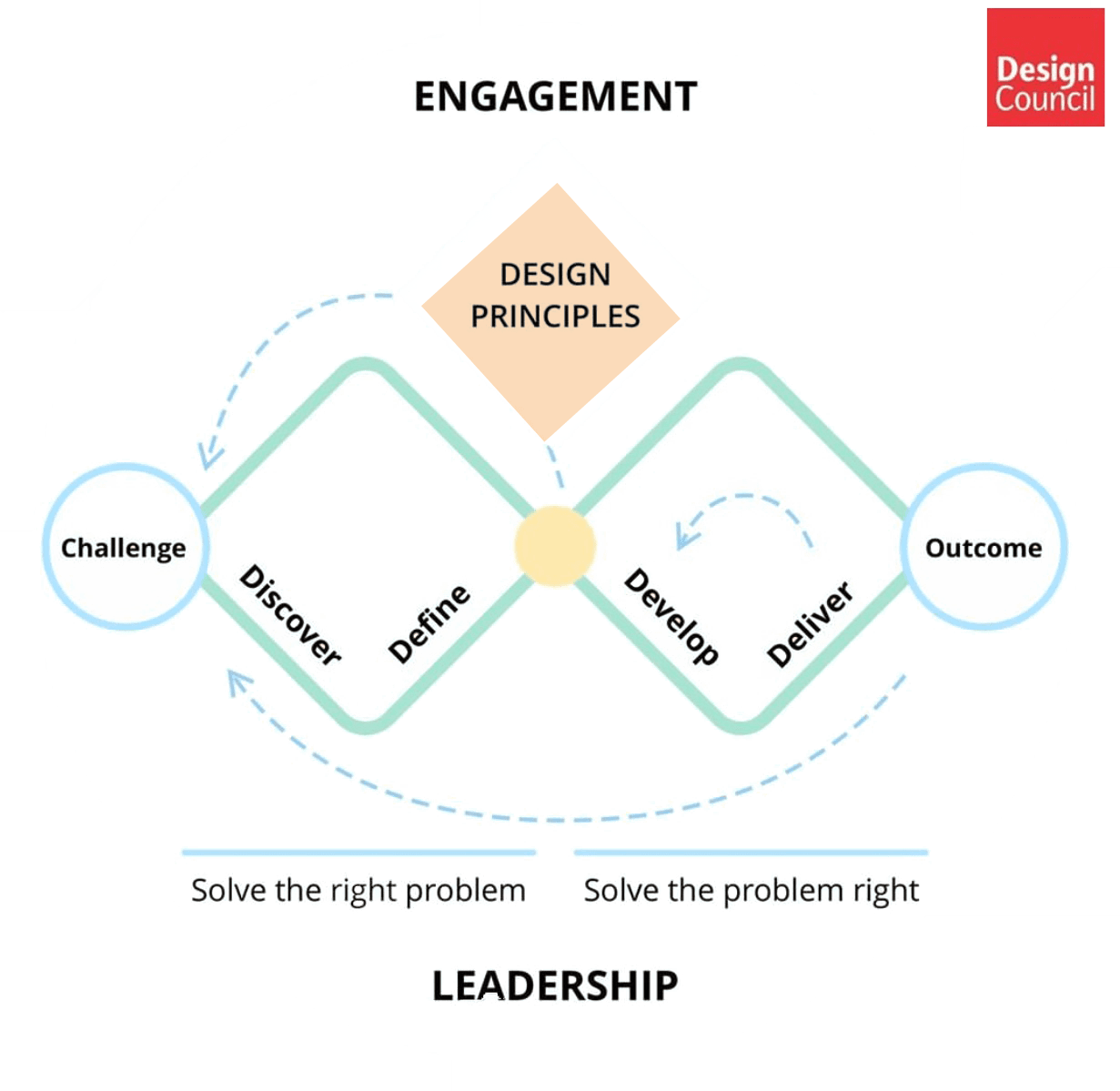 The updated Double Diamond
In this project, I have been using the 2019 updated version of the Double Diamond, introduced and modernised by the Design Council, a UK charity that aims at making lives better through design.
The Double Diamond is a well known visualisation/framework that proposes a design process with 4 stages meant to diverge then converge while iterating on the problem statement and the chosen solution.
Since the Double Diamond is not a linear process, when it comes to the structure of the case study, it makes sense to group Discover and Define together because the more we discover about the problem, the more it gets defined.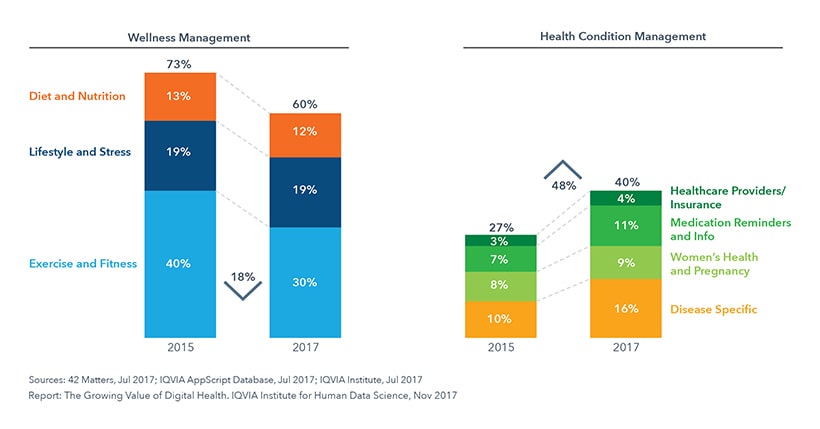 What is mHealth?
Mobile Health or mHealth apps are generally wellness related, but lately, health condition management apps have been rapidly growing. According to a 2017 report by the IQVIA Institute, they now represent a little over 40% of all health-related apps.
The different types of mHealth apps include:
Symptom Checkers




Healthcare Professional Finders




Managing Clinical and Financial Records




Condition Education and Management




Self-Monitoring




Remote Patient Monitoring




Rehabilitation Programs




Prescription Filling and Compliance (Adherence)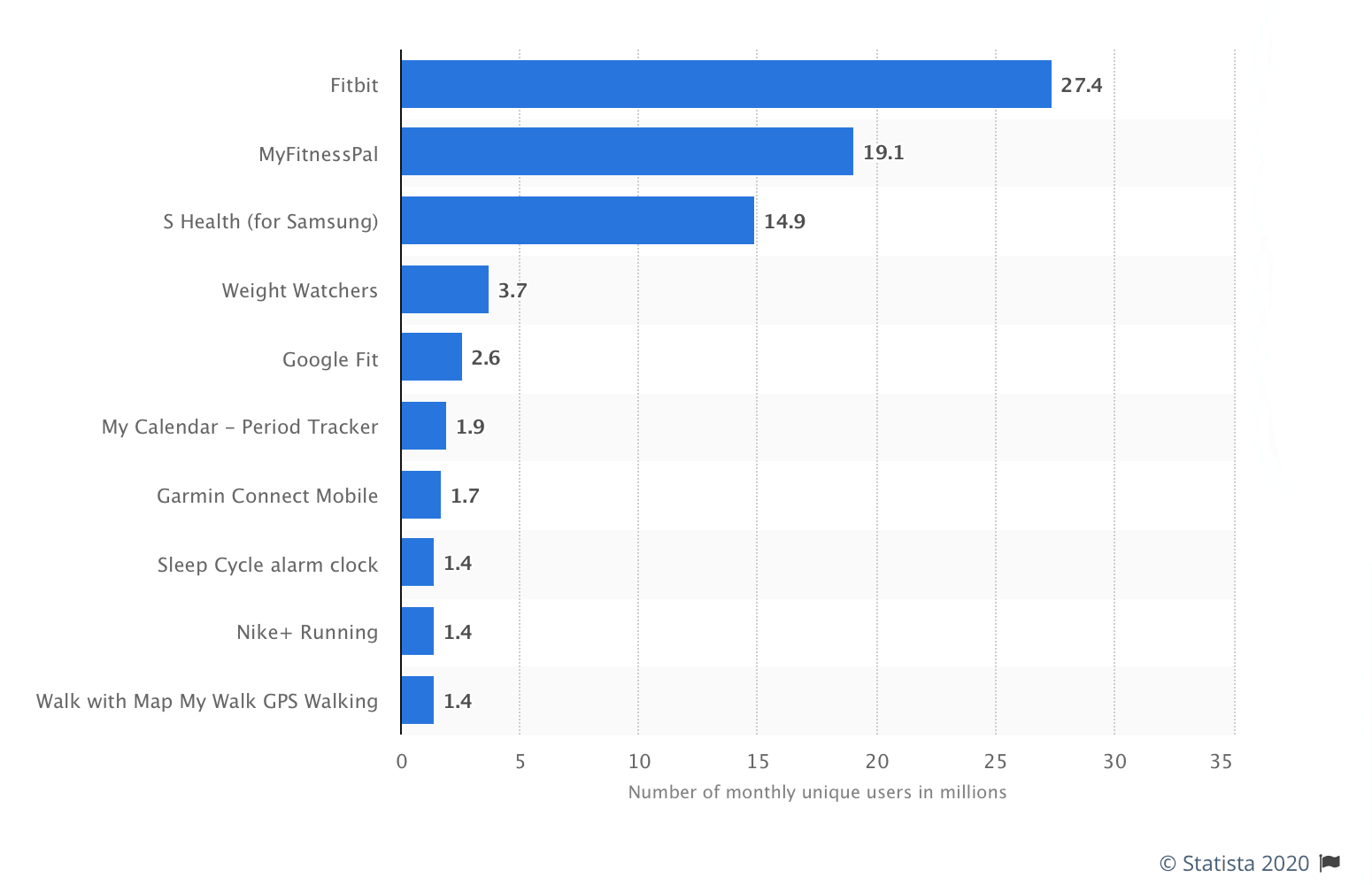 What does the market look like?
By looking at the top Health and Fitness apps by monthly unique users, information can be derived about what the users really look for with that industry.
Fitbit, S Health: an all-in-one fitness coach for a healthy life

MyFitnessPal, Weight Watchers: dietary monitoring
Google Fit, Garmin Connect, Nike+: activity tracker
My Calendar: period cycle monitoring
Sleep Cycle: sleep monitoring
So overall, it all comes down to fitness coaching, activity tracking, and diverse monitoring.
Surprisingly though, results from a study by Researchgate with 1,604 participants suggest that "individuals with poor self-reported health and low rates of physical activity, arguably those who stand to benefit most from health apps, were least likely to report download and use these health tools."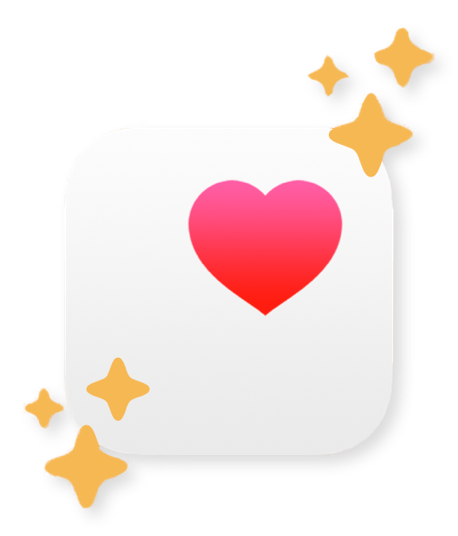 Where does the Health app sit on that spectrum?
The iOS Health app is a collection of 3 things:
Data aggregation from manual inputs & 3rd party apps

Data visualisation within a dashboard, helping self-realisation
First assistance thanks to the Medical ID card
Therefore, while the Health app is essentially informational. As such, the inherent user behaviour to be expected is mainly consultative.
Anatomy of the Health app
Let's take a closer look at the Health app. Since its redesign, the navigation has been simplified from 4 tabs down to 2: Summary and Browse. The first one is the user's dashboard while the second one is the configuration center.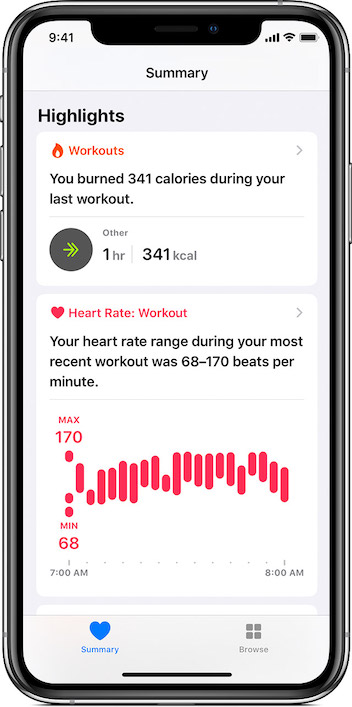 Summary - Highlights
The summary tab is a scrollable collection of data cards and informational content. Each card contains a specific area of measurement and upon tapping it, the user enters a dedicated view showing the evolution over time as well as suggested apps for that area.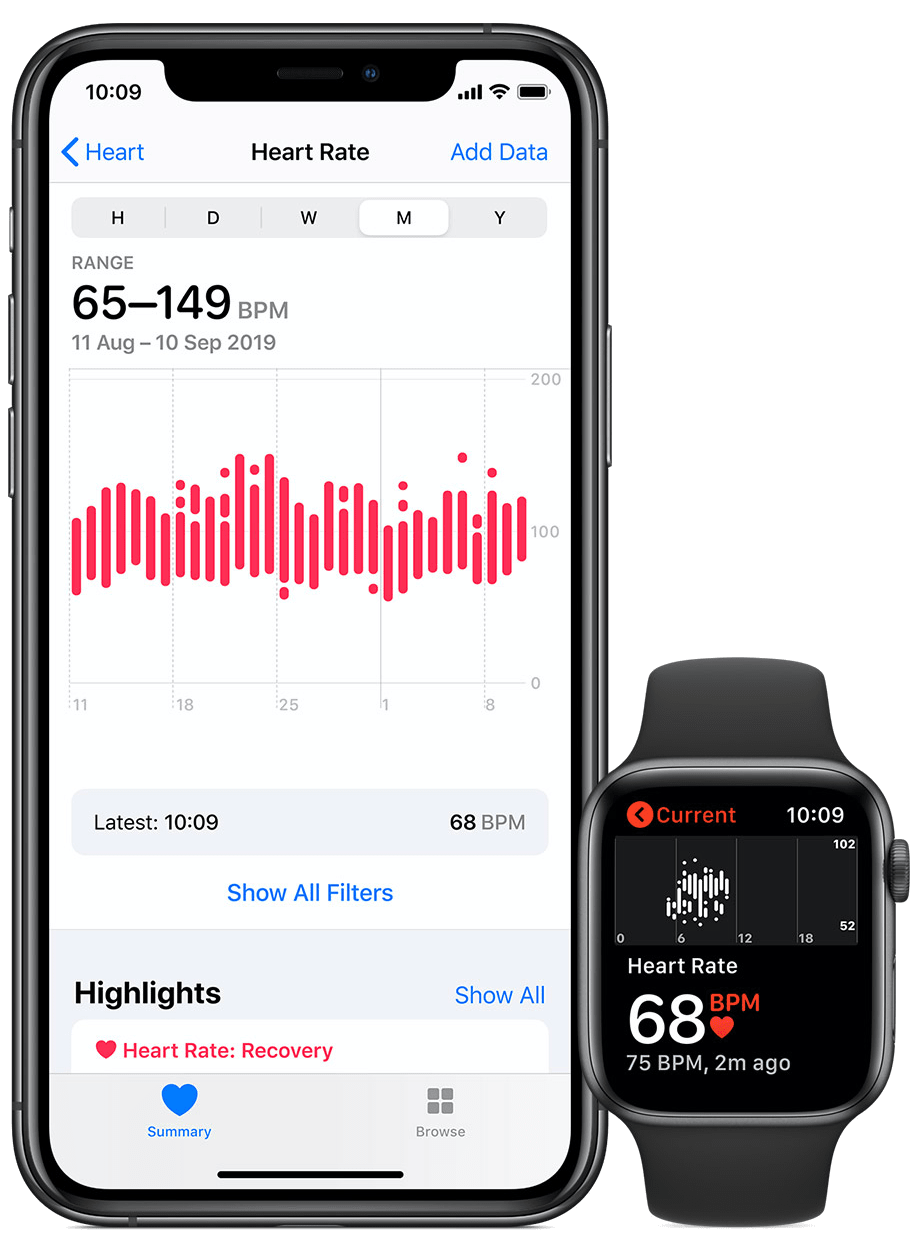 Summary - More details
The more details view offers graphs to visualise the evolution of the metric tracked over time. Up to 5 levels of granularity are available to choose from.
From here the user can check the records, manually enter data or even find related suggested apps compatible with Health through HealthKit.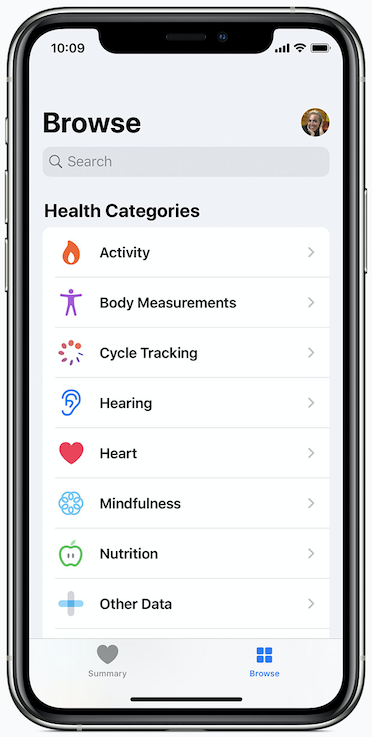 Browse
Here, users can quickly browse the different health categories available in the app and add more cards to the Summary dashboard.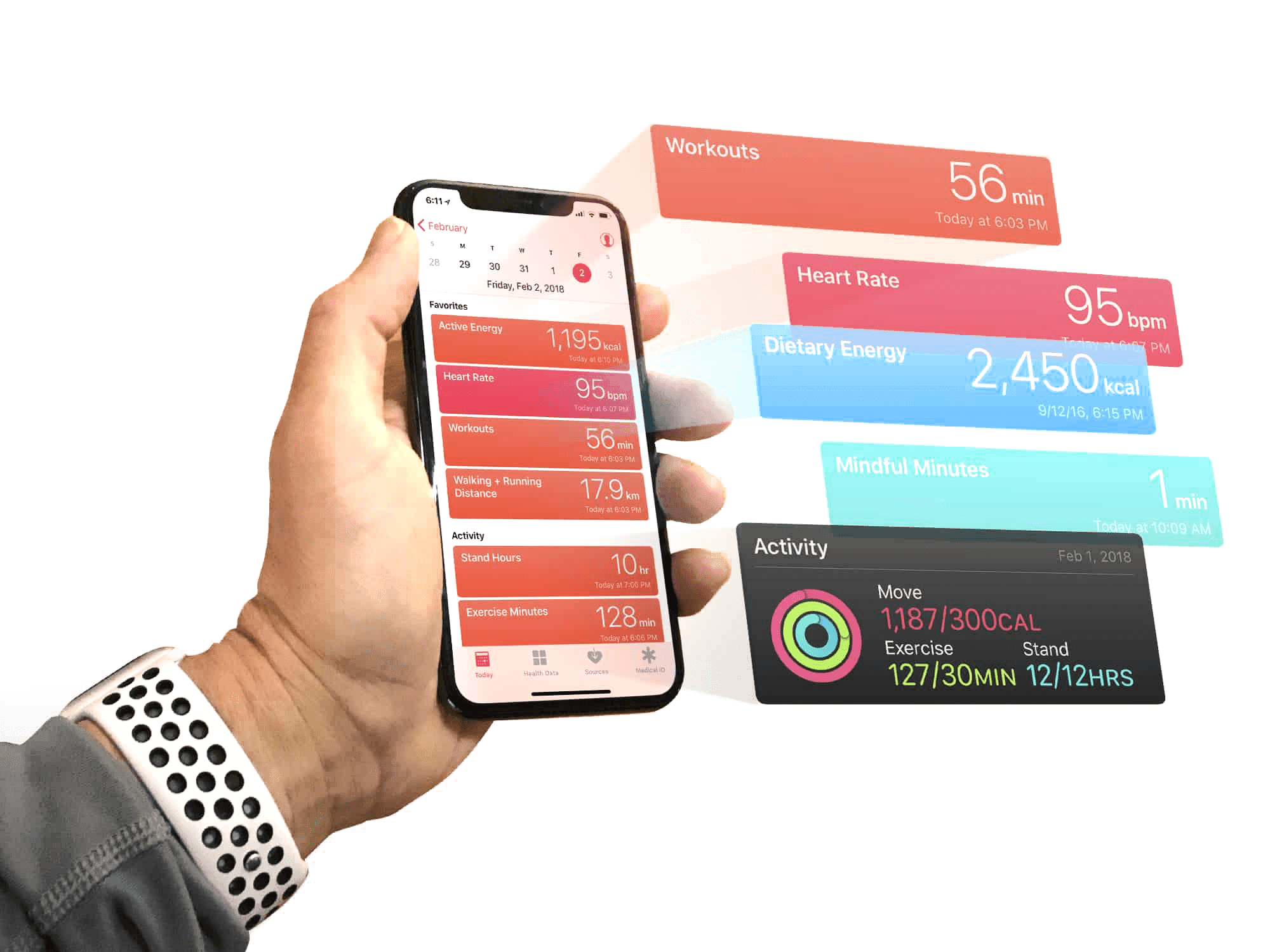 Who is the Health app for?
By its very nature, the app targets absolutely everyone. Instead of being a speicalised app, with expertise in one specific area, it has taken the generalistic approach when it comes to health and fitness monitoring: regardless of which health apps a user may use, apple will pull in the data and offer a centralised environment to visualise all the data collected.
Therefore the value of the app increases based on the number of data points, meaning users with an Apple Watch or another wearable tech also tend to be more likely to use the Health app.
What is its intended usage?
The app has 2 main features: manual data input and data visualisation.
If the data can't be collected automatically, it can be entered manually into the app. Though chances are in that scenario, Health would suggest in a rather prominent way, better 3rd party apps that can do a better job and then Health would simply pull in all the data through HealthKit. So the manual data entry is only rarely used.
The data visualisation, however, is the main USP of the app and while the health and fitness data is continuously collected, the need to check it varies based on the nature of the data itself.
For instance, a sportive Apple watch owner using the Activity complication would naturally do a checkup in the Health app after each workout while a user that only uses the new native "Cycle" feature to track their menstrual cycle would probably open the app regularly for a week every 28 days.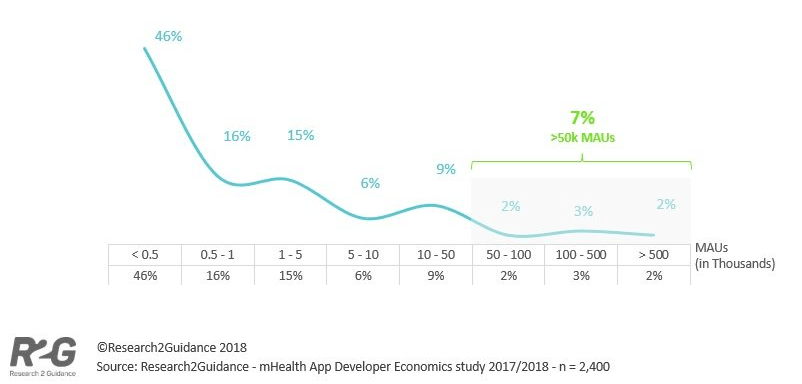 What about frequency of usage in mHealth sector?
According to a 2018 study by the Research2Guidance group, only 7 % of mHealth apps have more than 50,000 monthly active users. Apps in this segment mainly offer solutions related to running, exercise, diabetes, women's health or weight loss.
So overall, unless it becomes a companion app, general mHealth apps all suffer by their nature from low retention rates.
A striking reveal from the study indicates that healthcare apps are not meeting the needs and expectations of the users, nor the market potential.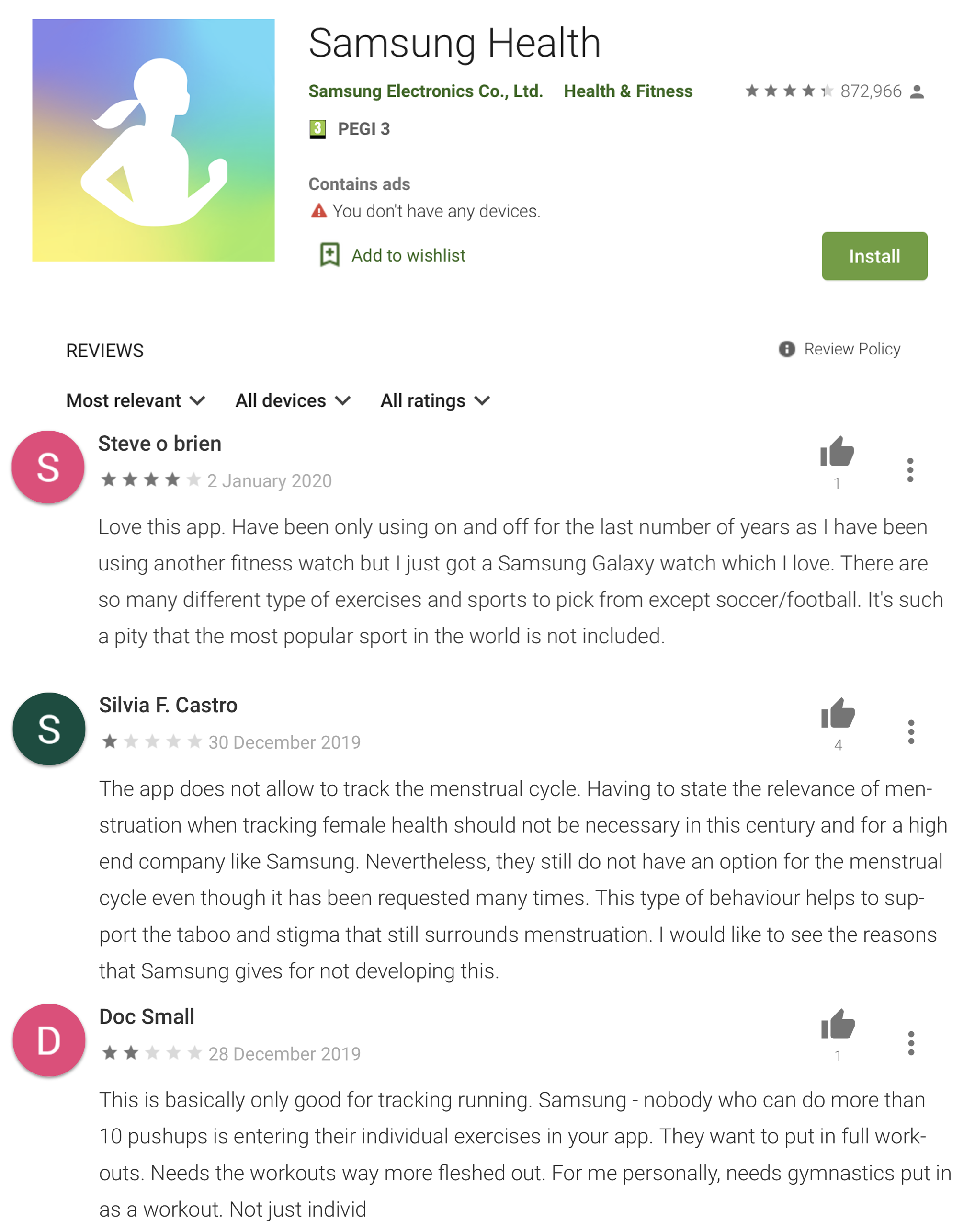 User research:
What do users say about the competition?
When it comes to user research, mobile apps come with a built-in feedback collection tool: store reviews. They are public and accessible for free. On websites like AppAnnie, it is even possible to narrow them down by country and date.
The good - What users like:
Have everything in one place




Progress visualisation -> motivation

Seamless connectivity with smart wearables

Coaching, goal setting
The bad - User pain points:
Bugs and technical difficulties

Usability

Missing features (period tracking, etc.)



Technical limitations during data collection
The opportunities - User needs:
More features




More personalisation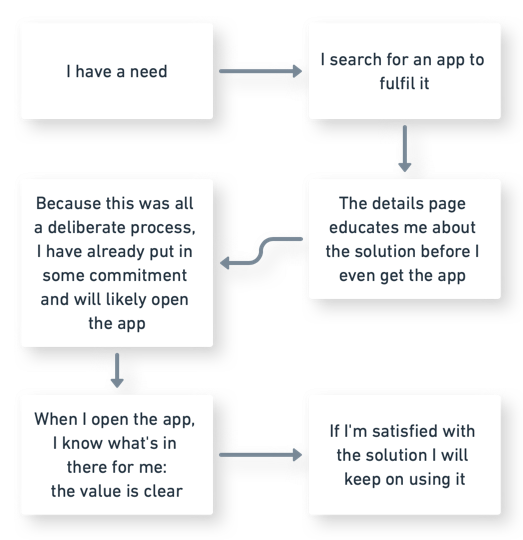 Why is the Health app so underused?
Health is an iOS stock app meaning it is shipped along with the device and can't be deleted. Therefore in most cases, it ends up just sitting there on user devices without getting used.
The problem here is that the decision-making process to choose whether to get/use an app is as pictured in this flow.
By the time users open the app, they have already been educated on its benefits.
The health app, on the other hand, suffers from low awareness due to an absence of communication.
On top of that, because the app is mainly a data aggregator, a first time user won't get as much value as a long-time returning user because the value increases with the amount of data collected.
This built-in delayed gratification system may explain lower adoption rates: users don't start using the Health app per se, instead they use it as a consequence of using other 3rd party apps that integrate with it.
And because of that, coming from a specialised 3rd party app that already does the job and also offers expertise in that specific area, the Health app may feel redundant or underwhelming due to its data-visualisation-only nature.
So what are the key takeaways?
The mHealth market is divided into "Wellness management" and "Health condition management".




The top health and fitness apps essentially address the "wellness" sector, with features like

fitness coaching, activity tracking, and diverse monitoring.
The mHealth market doesn't fully meet the needs of the users and the "Health condition management" side of it is somewhat underserved.


The secret recipe for a successful mHealth app is information + guidance and actionable measures.

By essence, mHealth apps have extremely low periodic active users (DAU, MAU)
The stock iOS Health app is mainly informative and its real value depends on the number of data points
Health only provides comes with built-in delayed gratification meaning its initial value starts very low and increases with time.
The entry point to the Health app is mainly a 3rd party app or service that integrates with it and raises awareness for it. By the time the user opens the app, there is already some data cued in and therefore value.
Drafting a solution
The task at hand here is to increase the daily active users (DAU) of the Health app.
The low DAU numbers have been explained by a number of factors:
Low app awareness



Built-in delayed gratification
Lack of in-app communication about the app's value
Lack of prompts to create user commitment
Lack of goal setting/coaching element
In order to solve the periodic usage problem, a number of hypotheses can be made.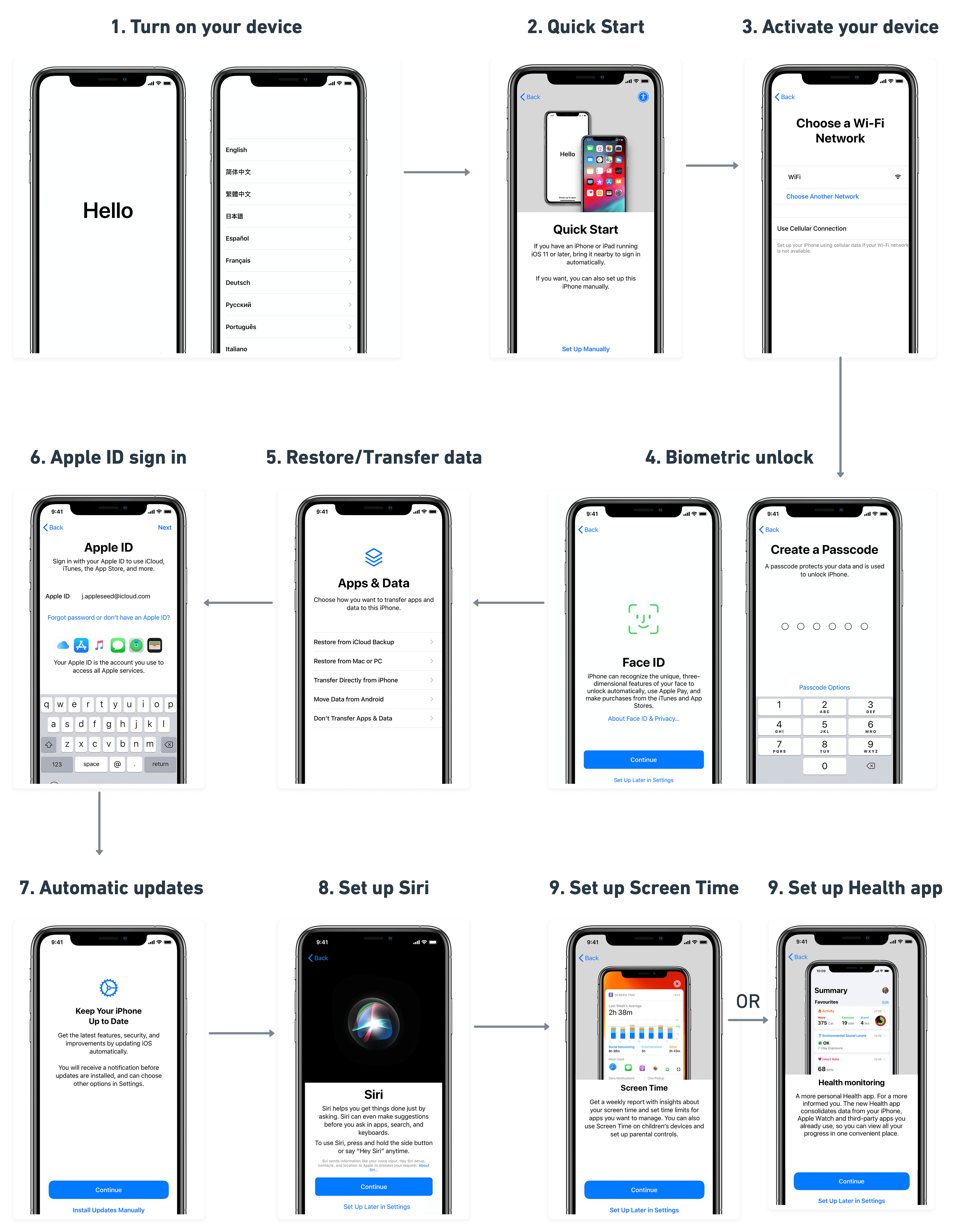 Raising awareness to increase volume
Awareness can be raised via multiple touchpoints:
Upon setting up a new iPhone, the Health app's benefits can be presented on one screen as depicted in the bottom left mockup labeled "9. Set up Health app"

Upon 1st usage, a personalised onboarding can help create a closer bond with the user

Upon installing new health and fitness apps, or pairing a smart wearable, push notifications can invite the user to discover how the Health app can help get the best out of it

The idea is that by increasing inbound traffic to the app, DAU's will increase as a direct consequence. However, because this approach doesn't solve the next problem on the list, newly appointed users will also likely be unique one-off visitors.
To solve this, the next step is to work towards retention.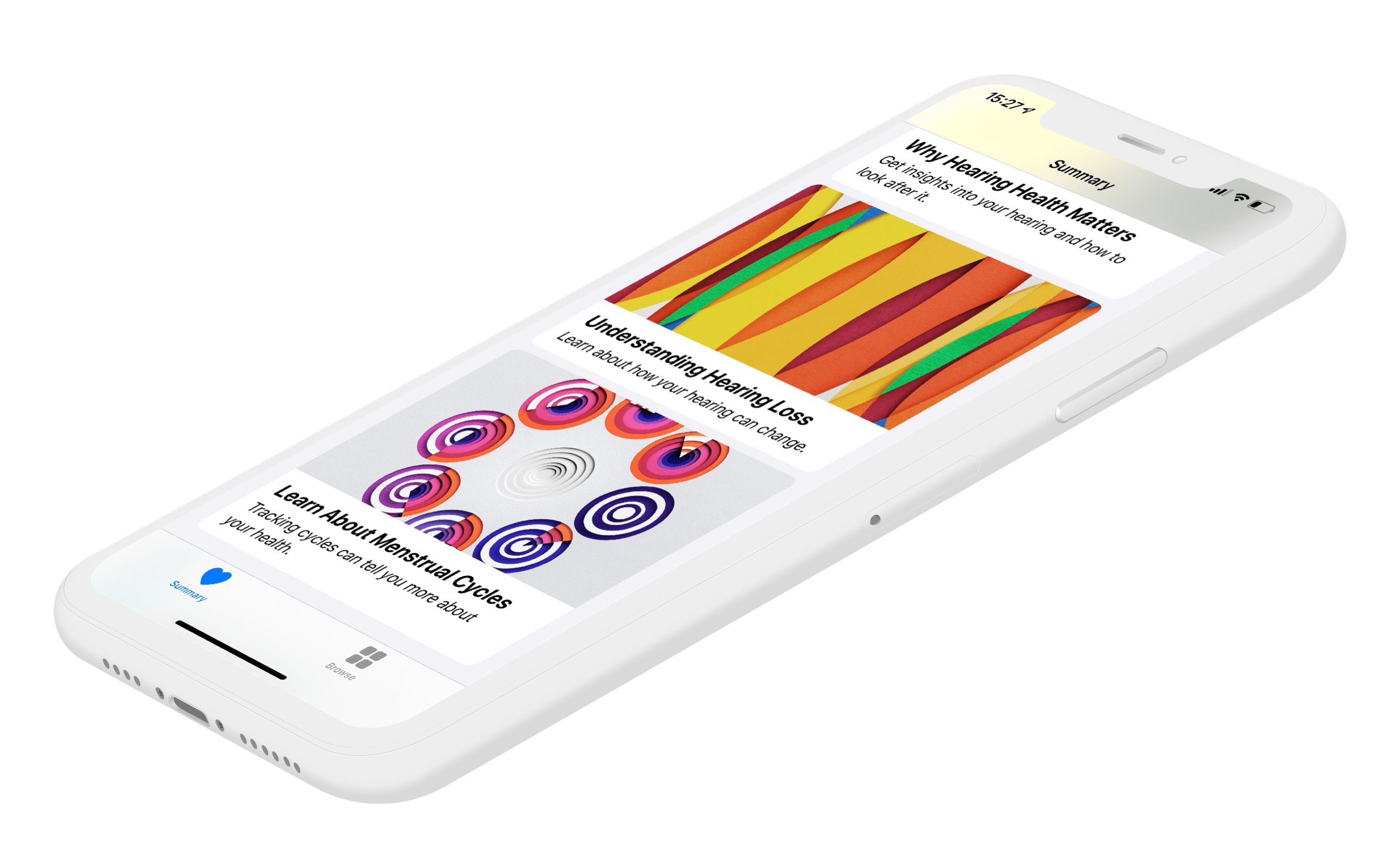 Improving retention to increase loyalty
To circumvent the emptiness of the Summary view during the first use, Apple has a small set of articles under the "Get more from Health" section.
At the moment only 3 articles are available, 2 on hearing and 1 on the menstrual cycle. Surprisingly, while it is using the exact same layout as the "Today" tab of the App Store, there is no CTA in the articles. These are missed opportunities to enter the users in the data input funnel through articles of interest.
Improving retention - Quick wins
The addition of relevant CTAs at the end of each article is a quick win to convert a user interest into a new data point.
This also means that adding more articles could entice to a larger audience and end up increasing conversions.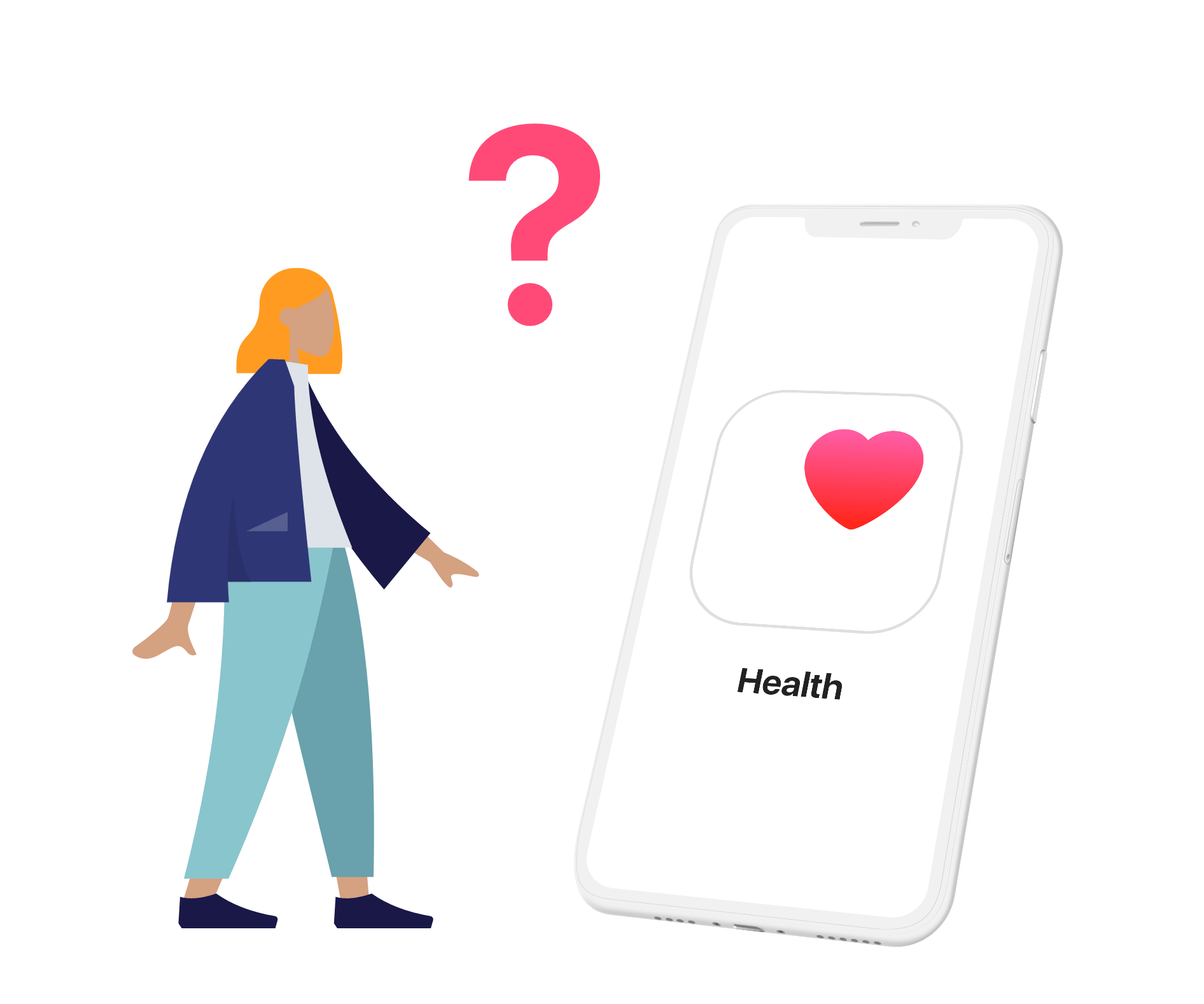 Improving retention - Deep anchoring

In order to create a deep user anchoring from the start, I believe that working on the onboarding journey would yield notable positive impacts on DAU.
At the moment, the app doesn't offer any guidance during the first use so the main question on people's minds is: "Why do I need this app?"
Below are some concept sketches illustrating this approach.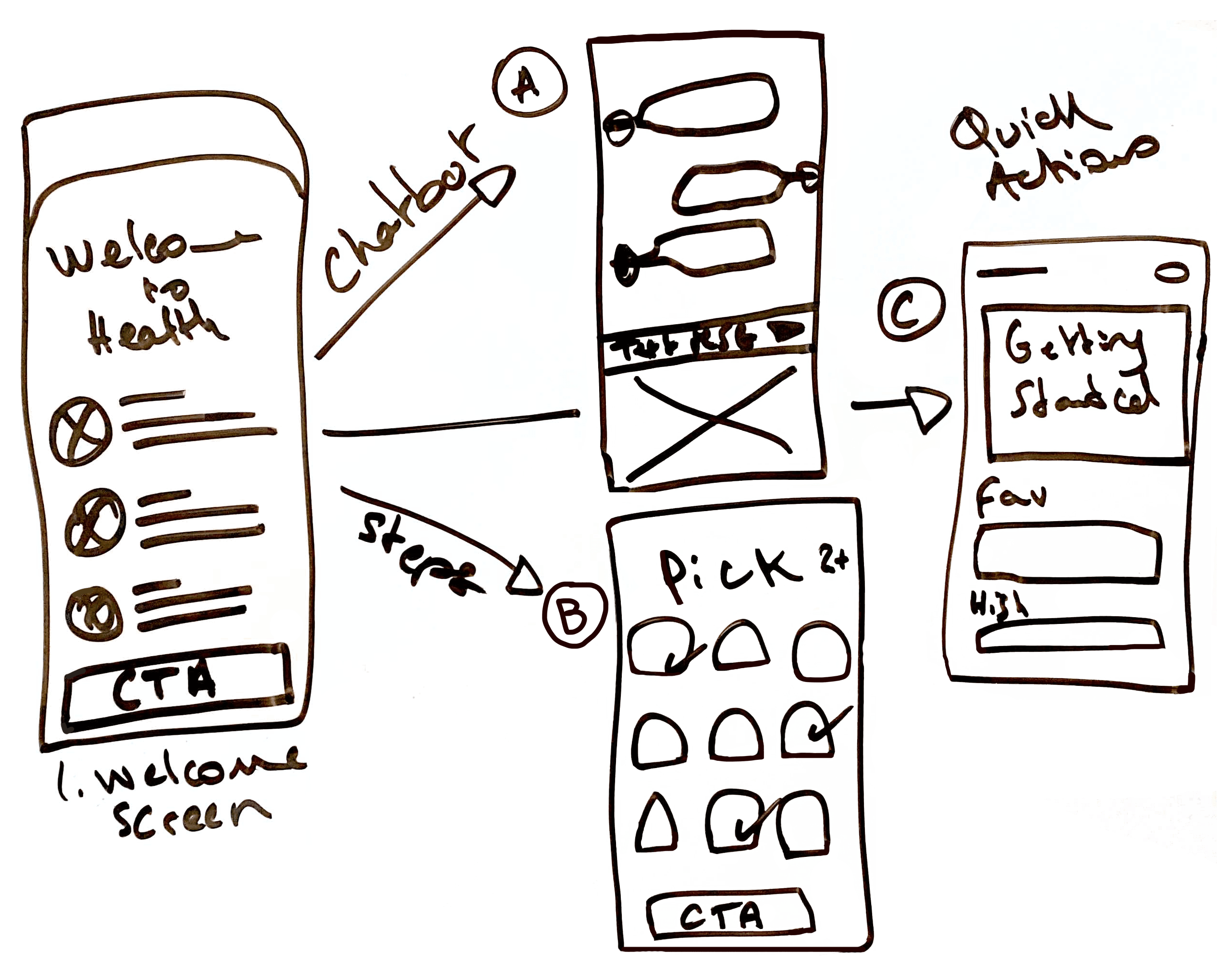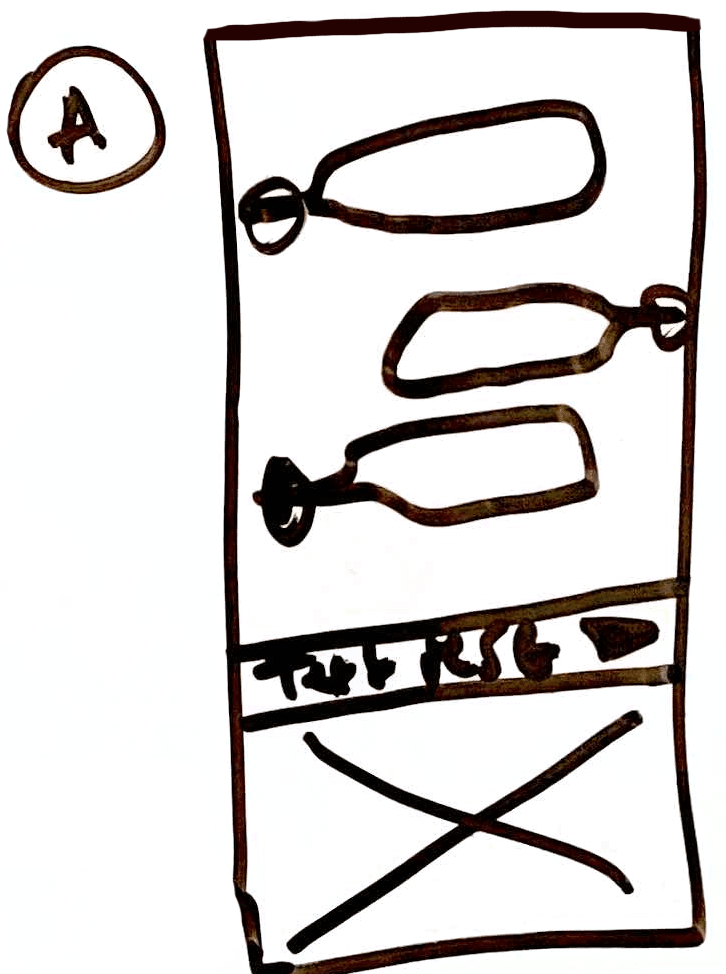 Option A - Chatbot
With the introduction of iMessage for business, chatbots along with conversational UI have become an option to consider especially when there is AI involved.
The thinking behind a chatbot onboarding approach is to offer personalised assistance during the app set up.
Unfortunately, since this is an Apple-branded app, it has to follow the Human Interface Guidelines very closely.
When it comes to onboarding, Apple is very clear: "Make learning fun and discoverable" and "Avoid asking for setup information upfront". So the chatbot onboarding route can't be pursued.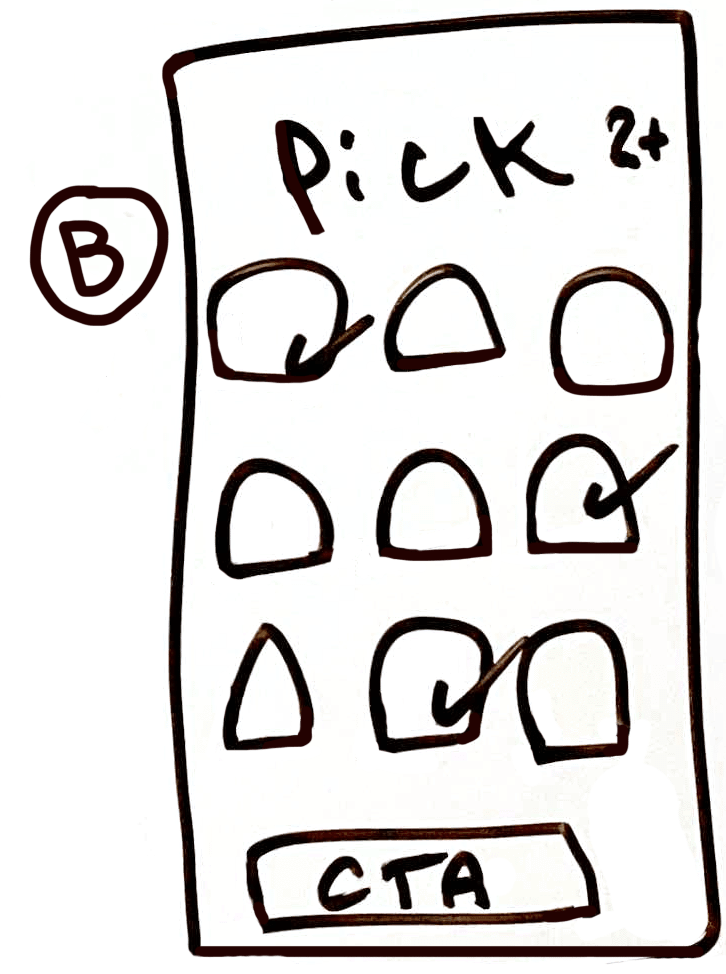 Option B - Step by step setup
That approach takes the user through a couple of quick setup steps to personalise their experience.
But just like Option A, this wouldn't sit well with Apple's HIG and especially due to this "Stick to the essentials in tutorials. It's fine to provide guidance for beginners, but education isn't a substitute for great app design."
Moving on to Option C.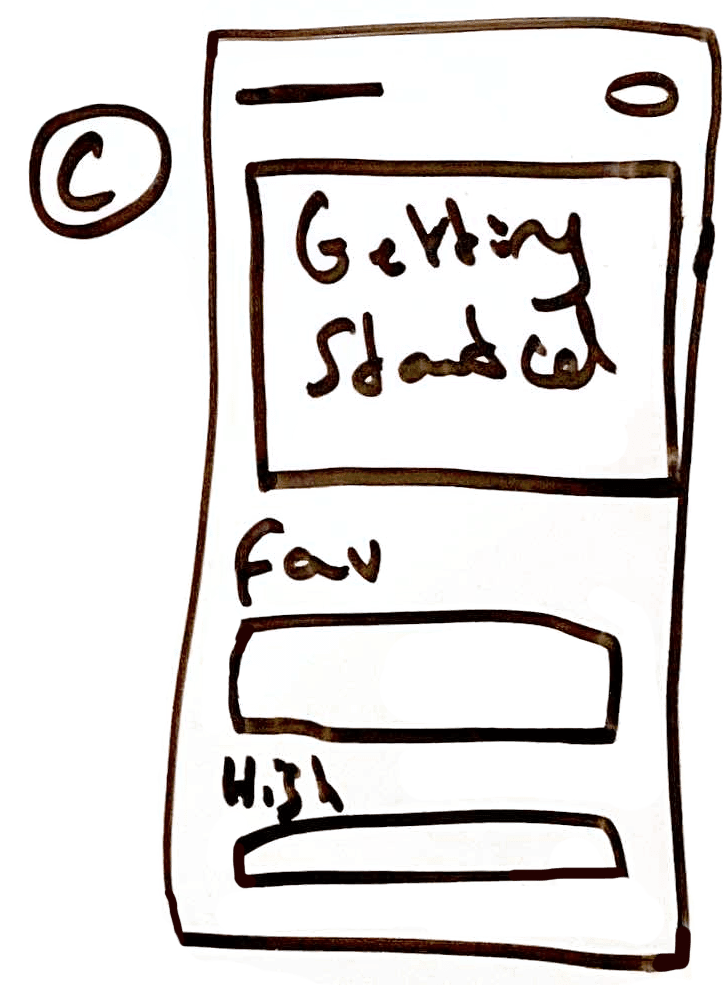 Option C - Featured Help
This final approach fulfills all of the above guidelines and is perfectly in line with this other one: "Anticipate the need for help. Proactively look for times when people might be stuck."
The idea is to match the modular foundation of the view and an extra dismissable "Featured card" at the very top inviting the user to be taken through a very quick optional setup.
It could be titled "A more personal Health app for a more informed you." and the CTA would be "Get started".
Creating the User Flow - Option C
Option C seems like the less intrusive one while still offering assistance in a prominent way. It does address the question "So what do I do now?" and creates an instant anchor for the user who has displayed some level of commitment when he chose his areas of interest.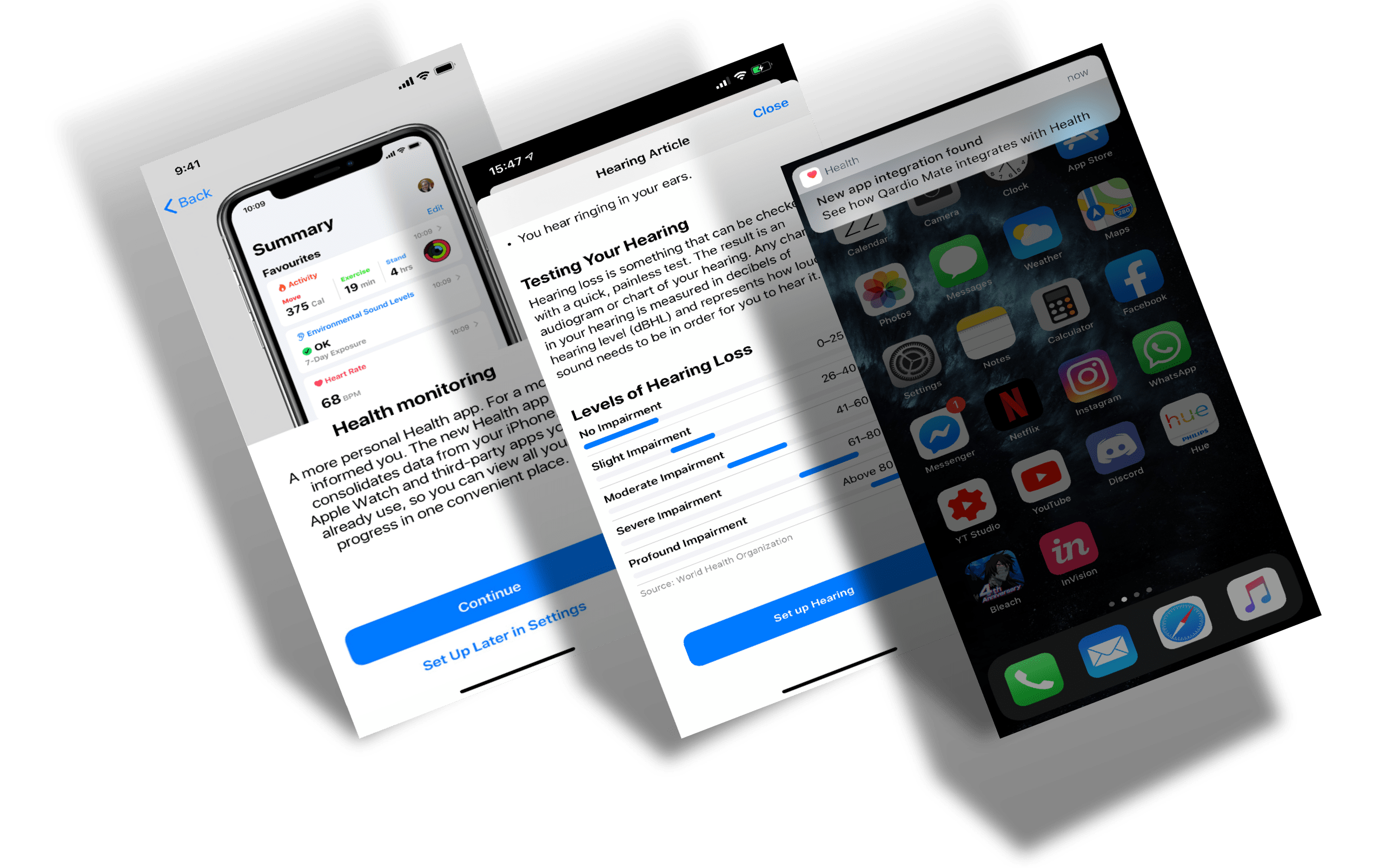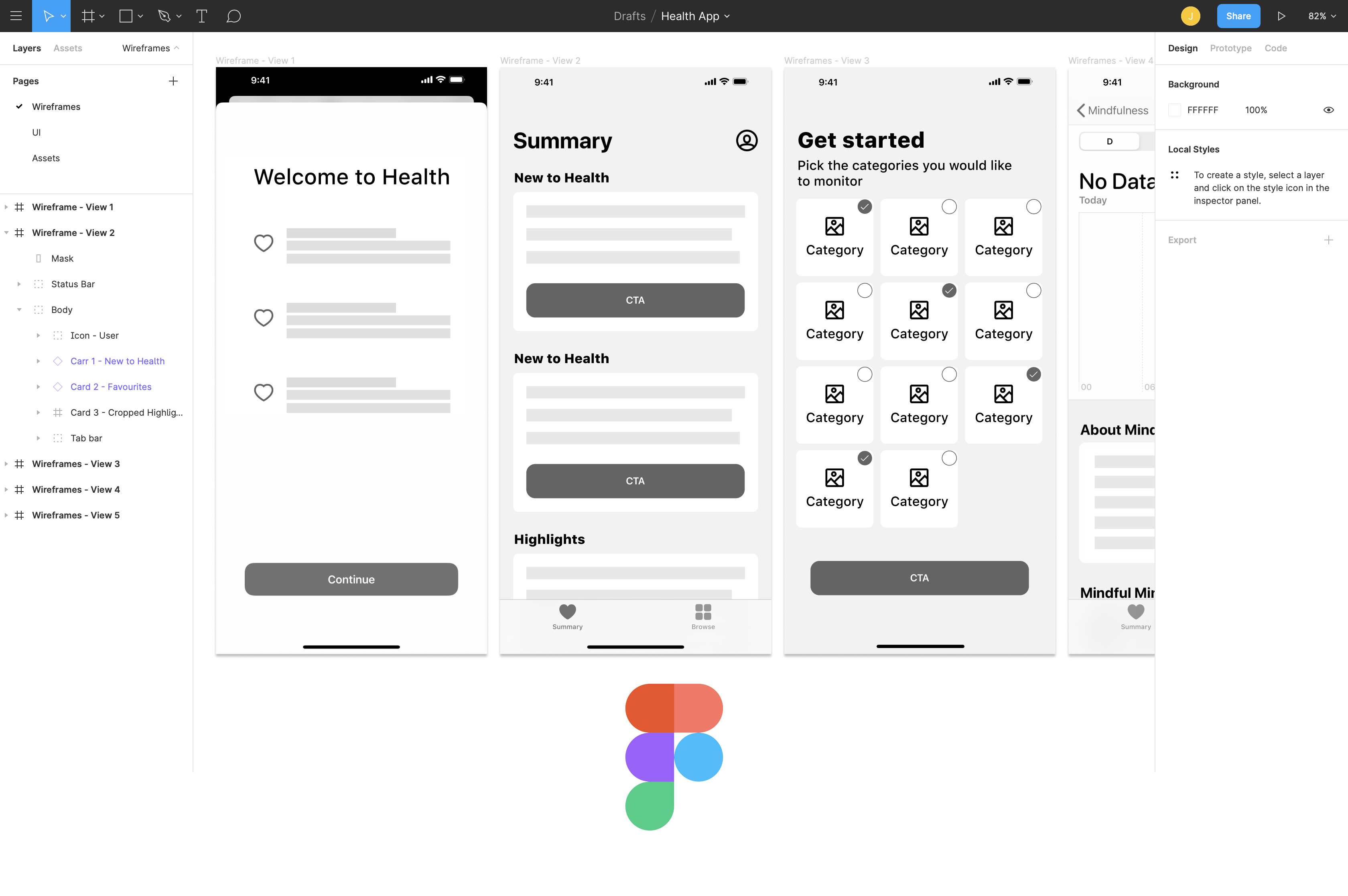 Creating the Wireframes
The problem has been identified and a solution has been proposed. It covers several touchpoints outside of the app to help raise awareness and drive more traffic into the Health app. This includes an extra step during a new iPhone setup as well as push notifications when a new HealthKit enabled app has been downloaded.
Some quick wins have also been suggested, like the addition of CTAs at the bottom of each article.
We've also seen that the app's value increases over time with the number of data points collected. Therefore, I have decided to tackle the challenge by focusing on the onboarding journey with a non-obtrusive setup process. By leveraging the modular structure of the Summary view, a new "Featured card" option is being explored. The latter would be an optional entry point for the setup process.
For the wireframes, I have decided to go with mid-fidelity using Figma. The project can be accessed here.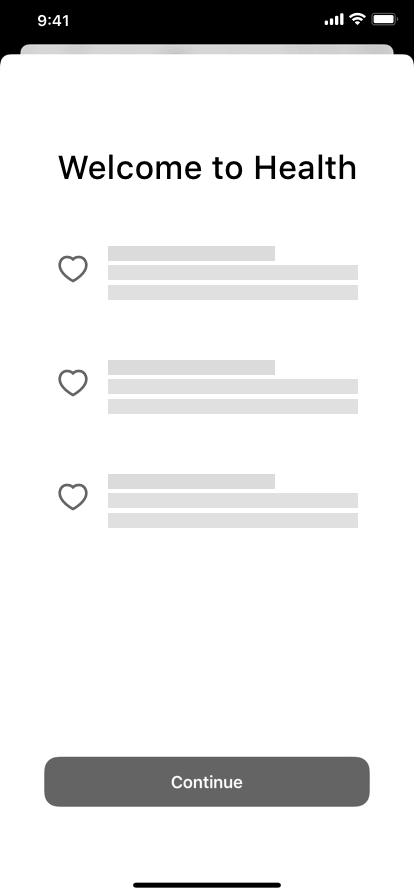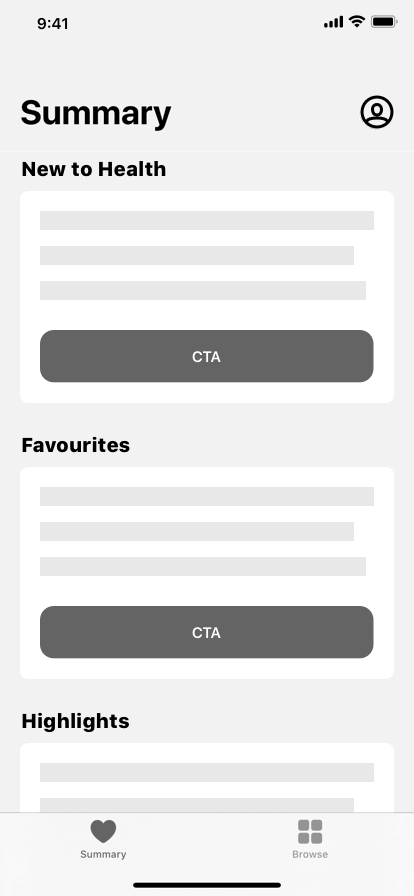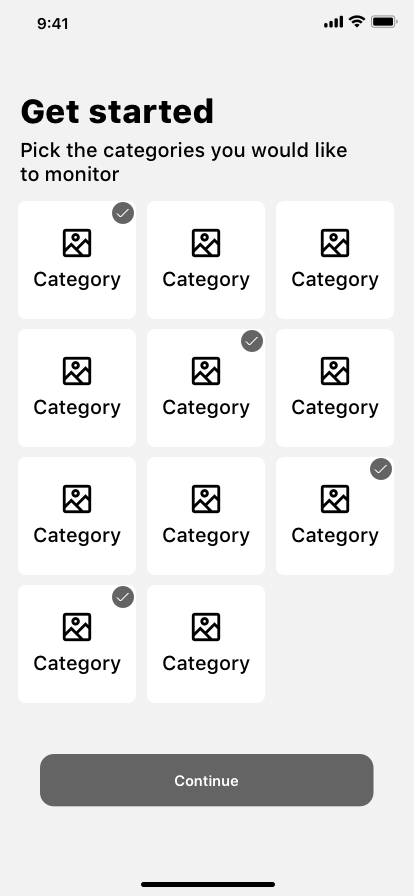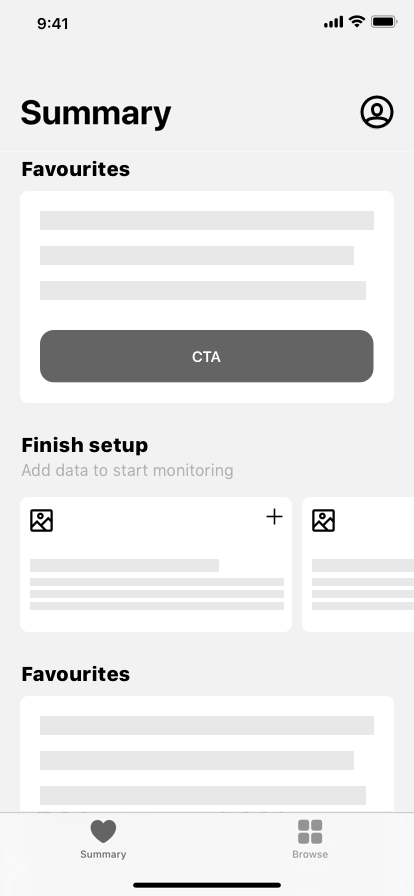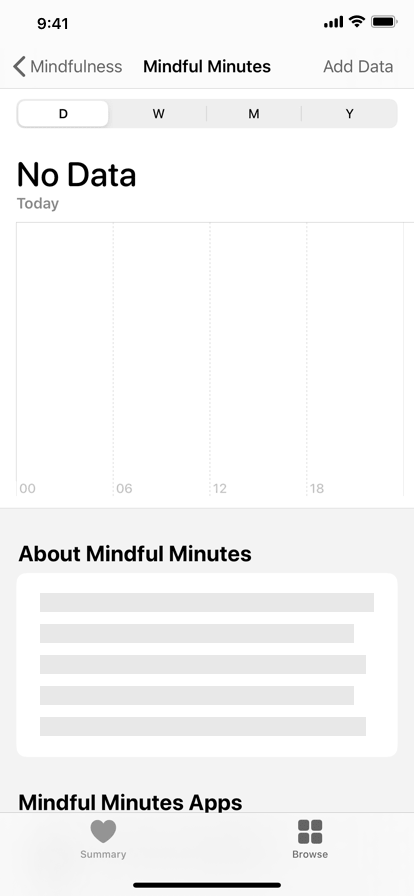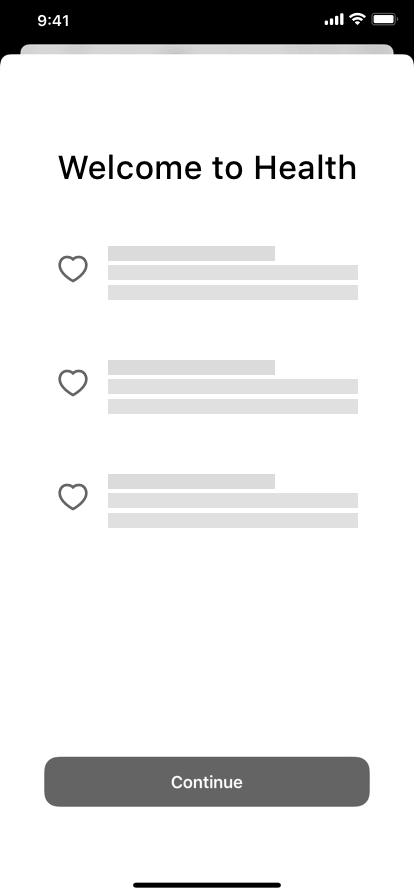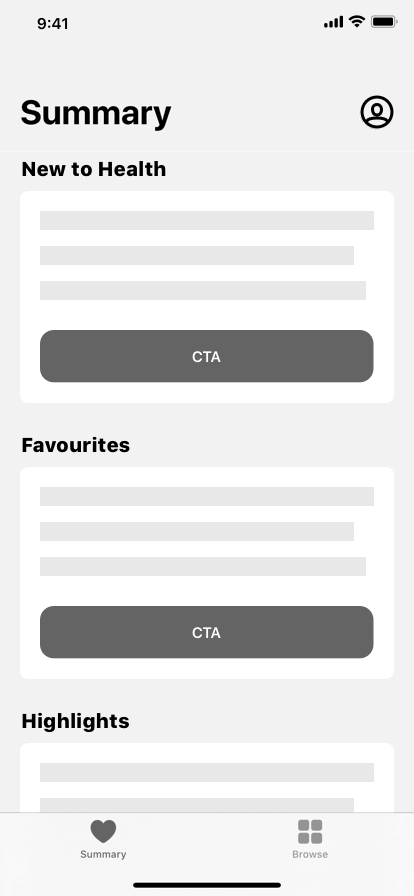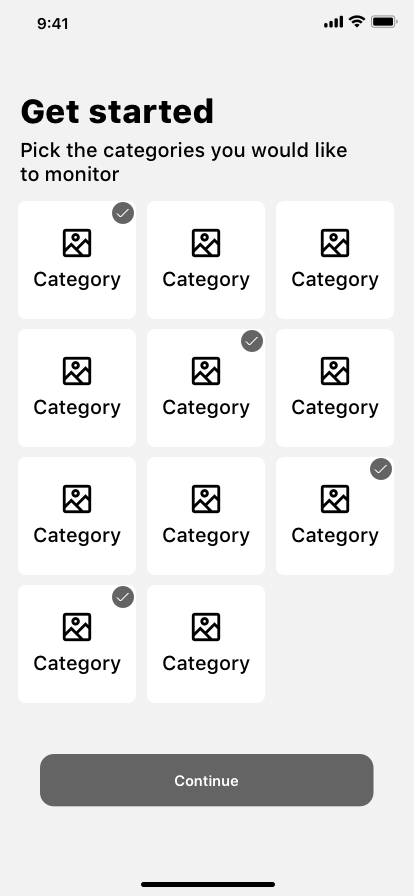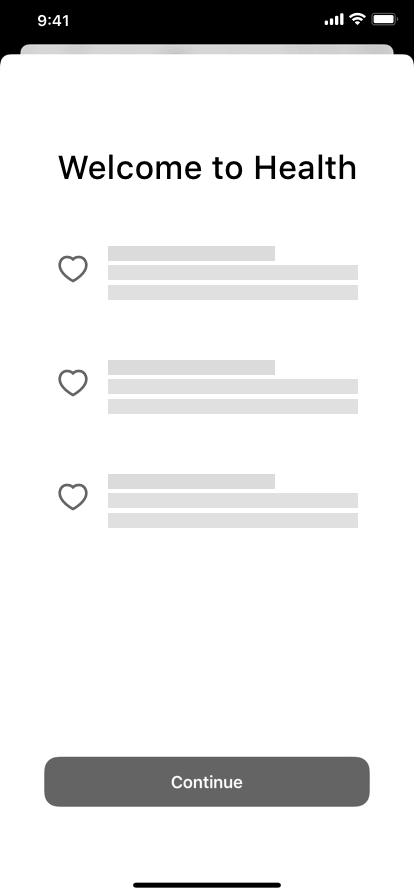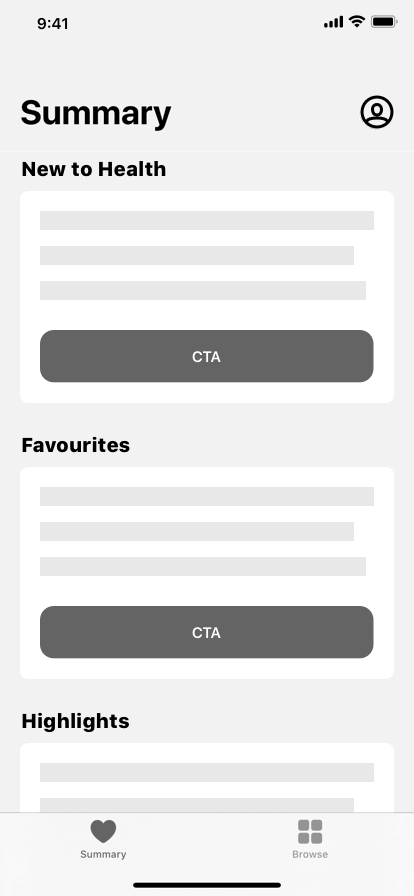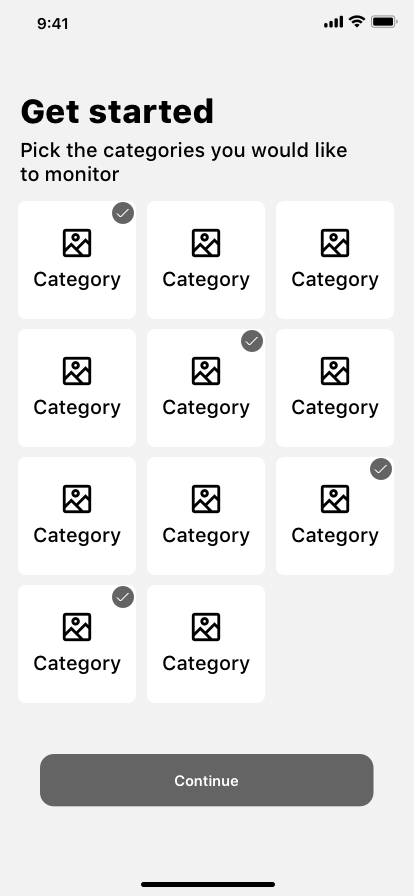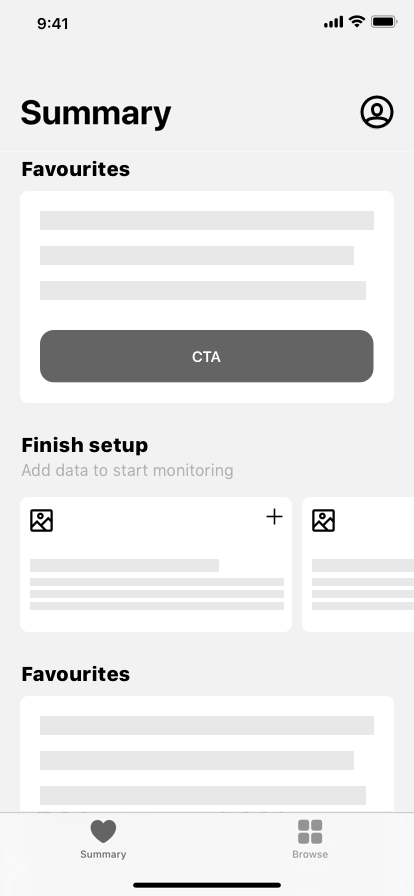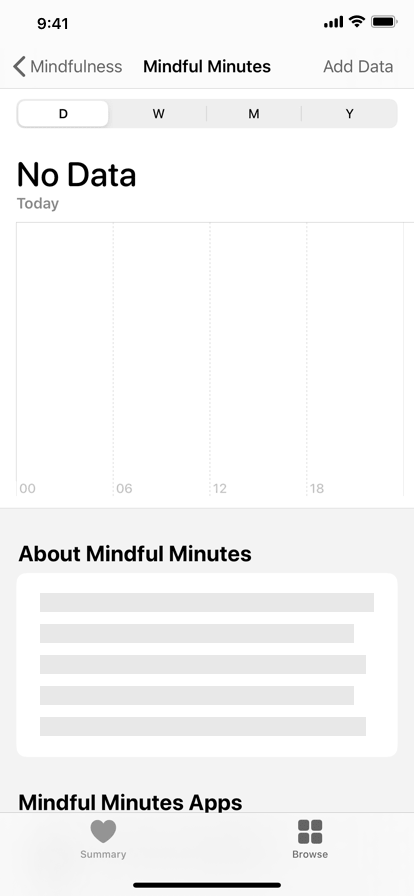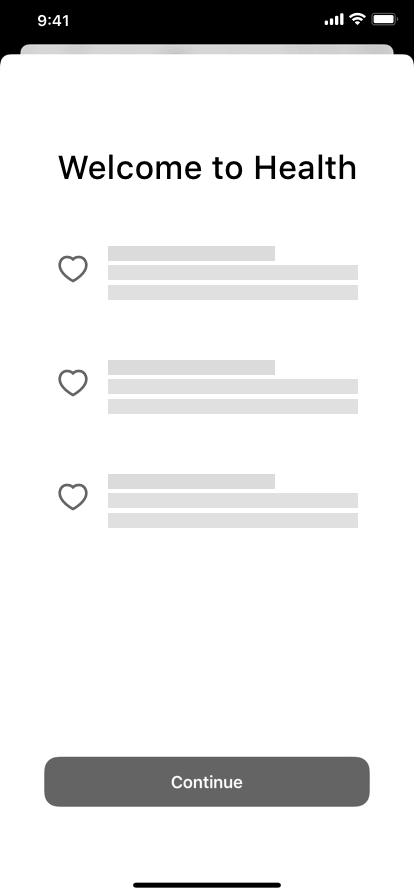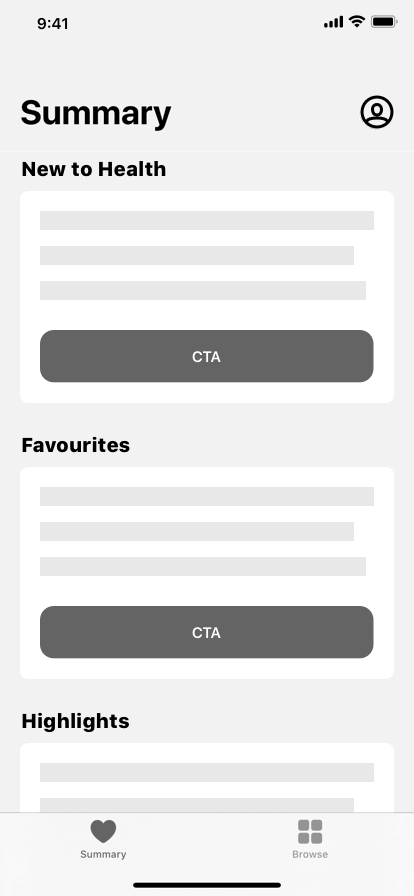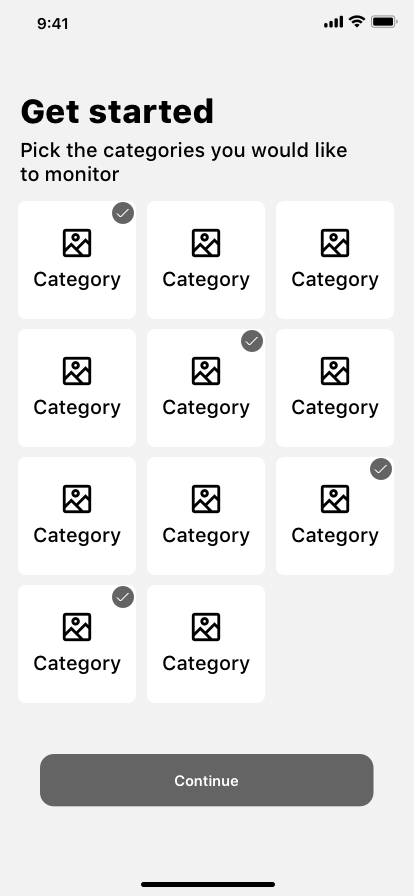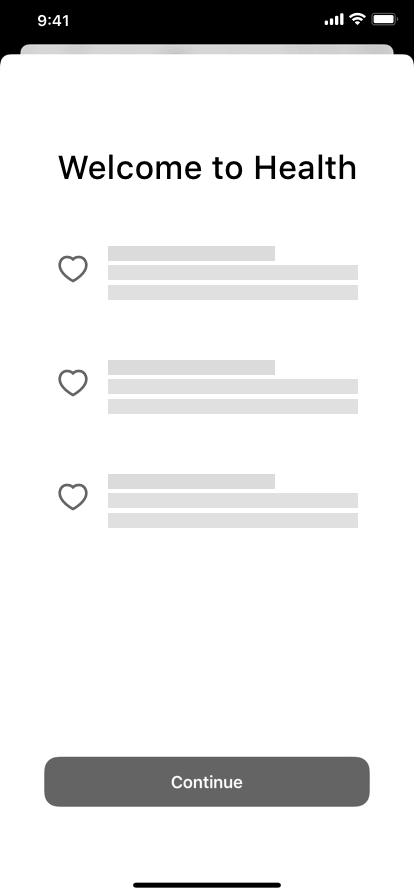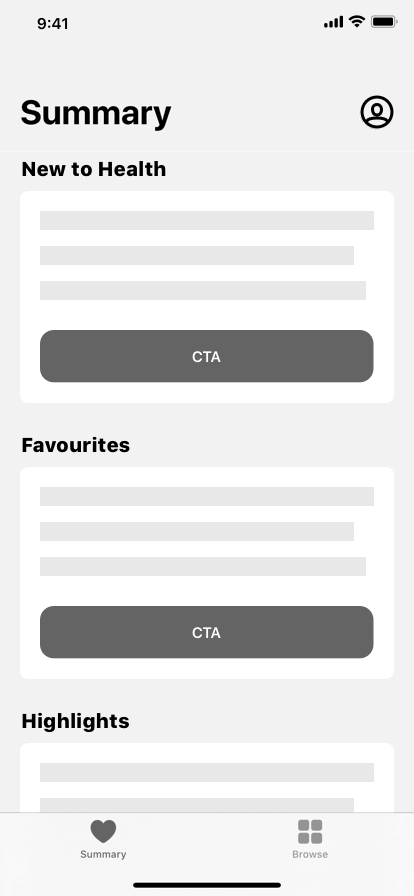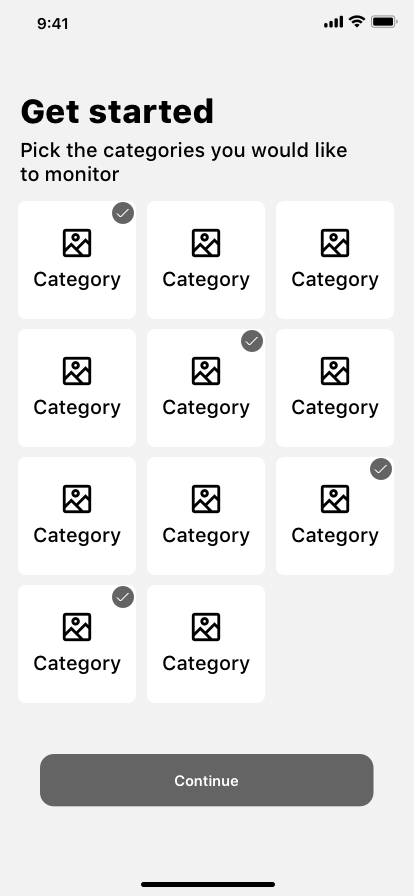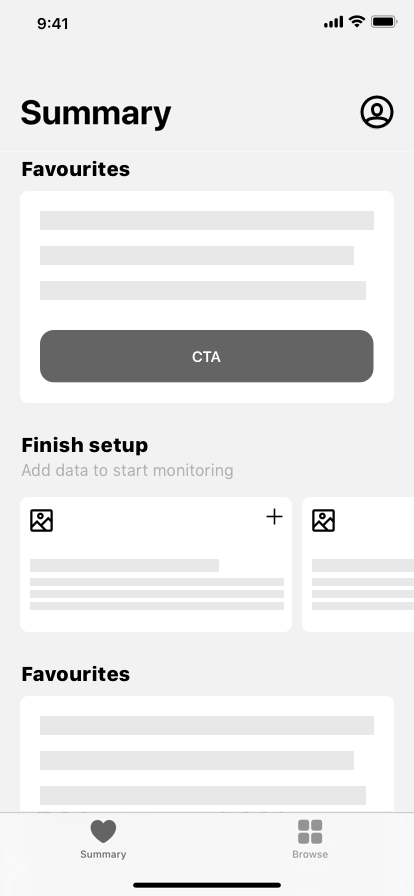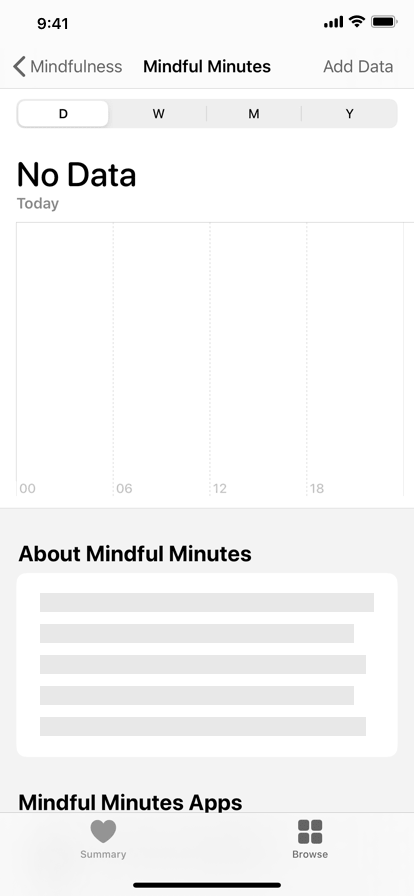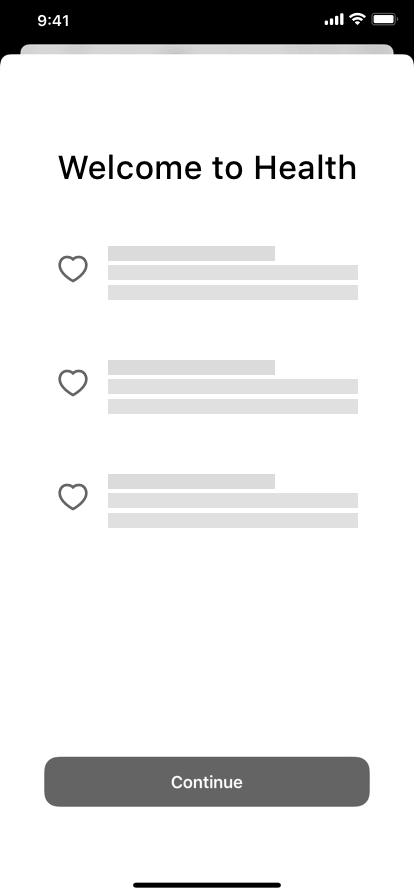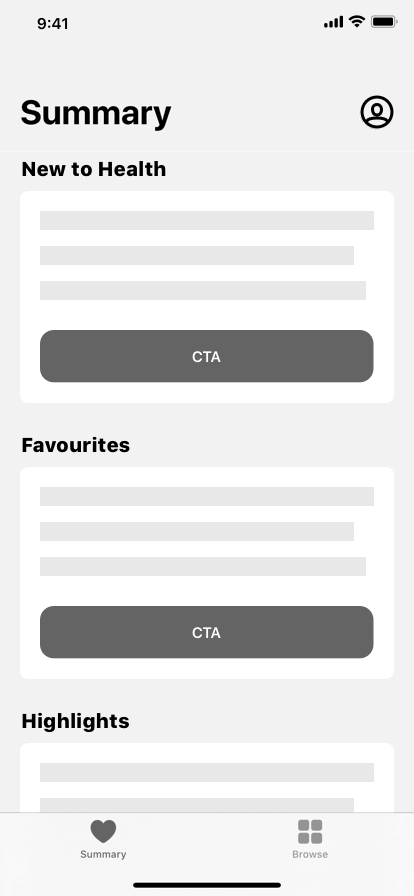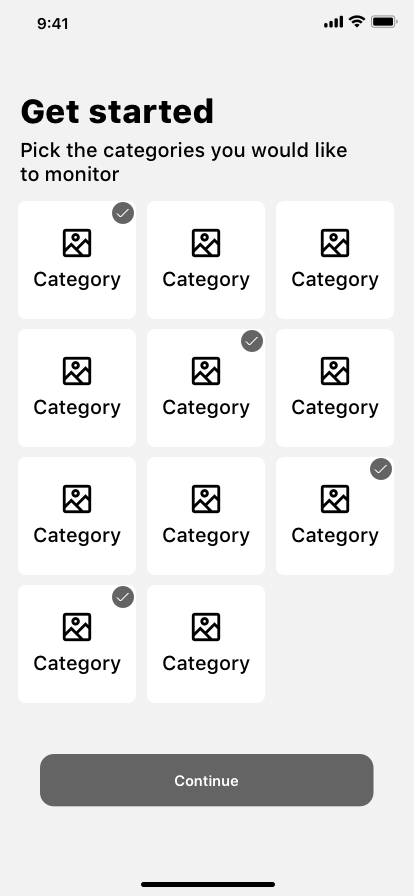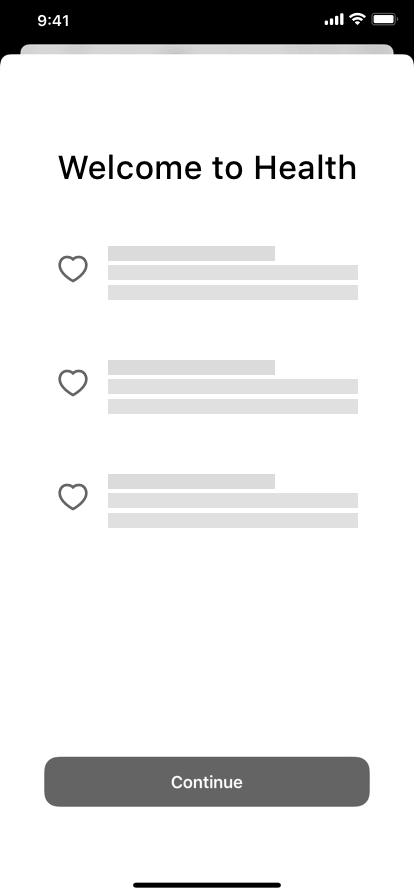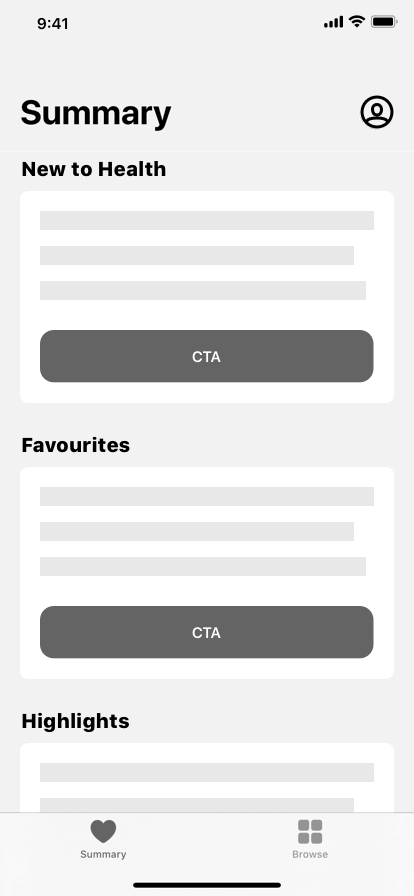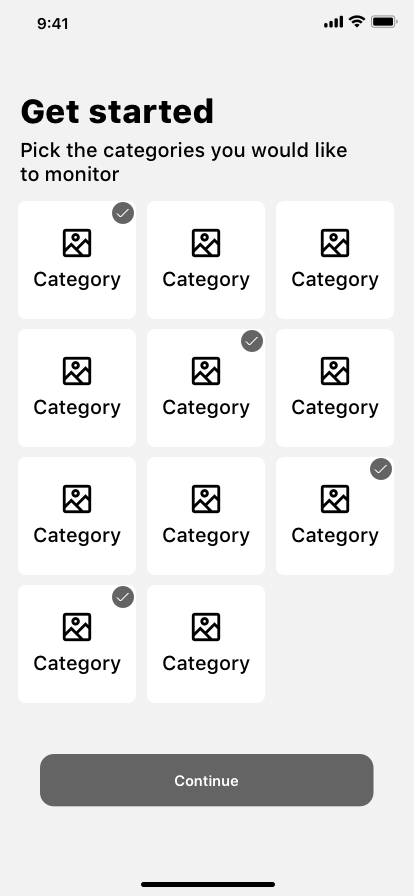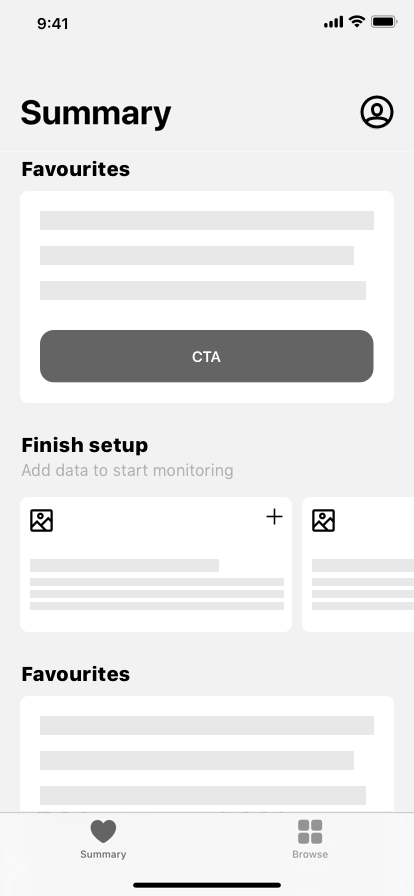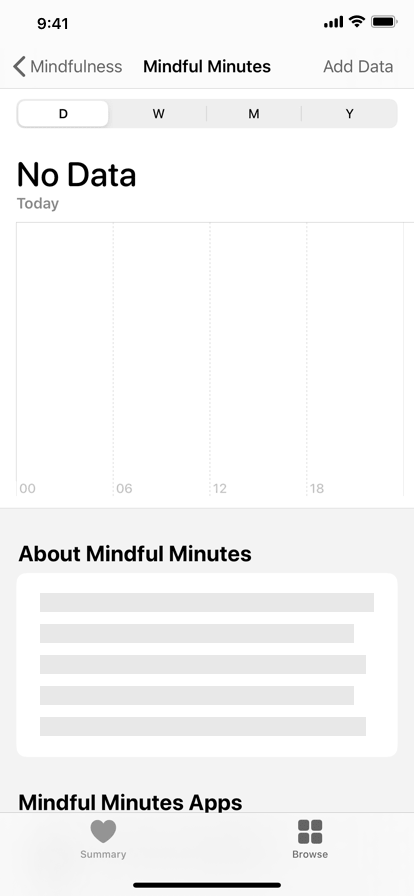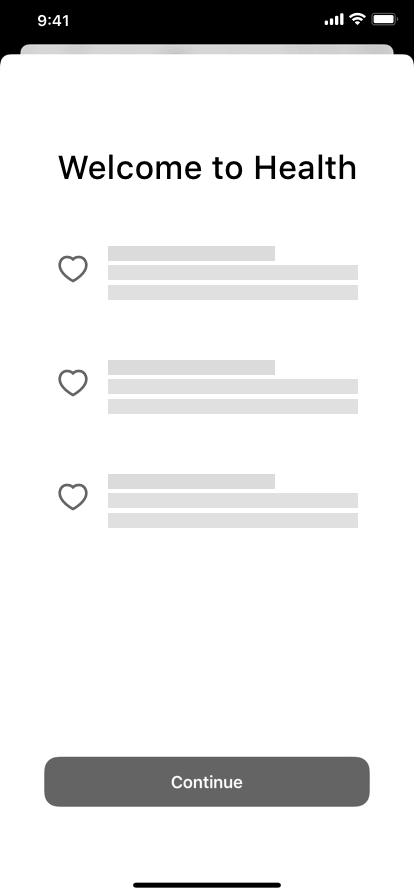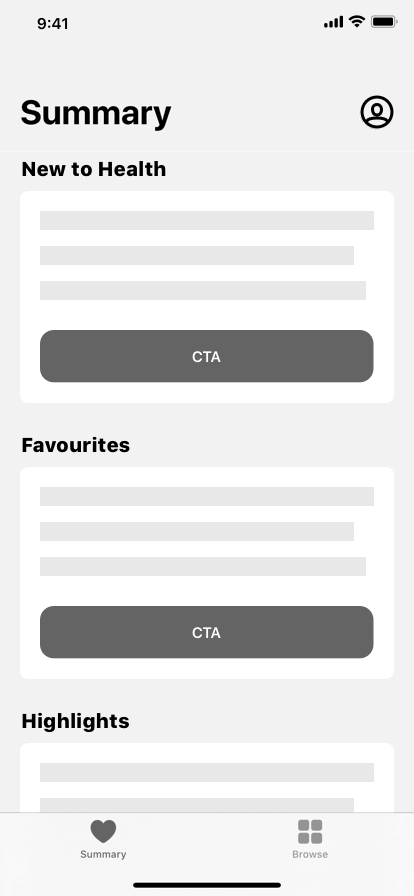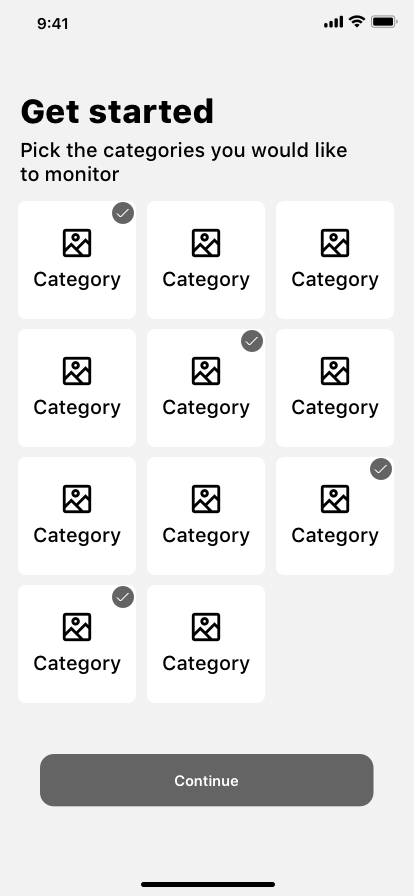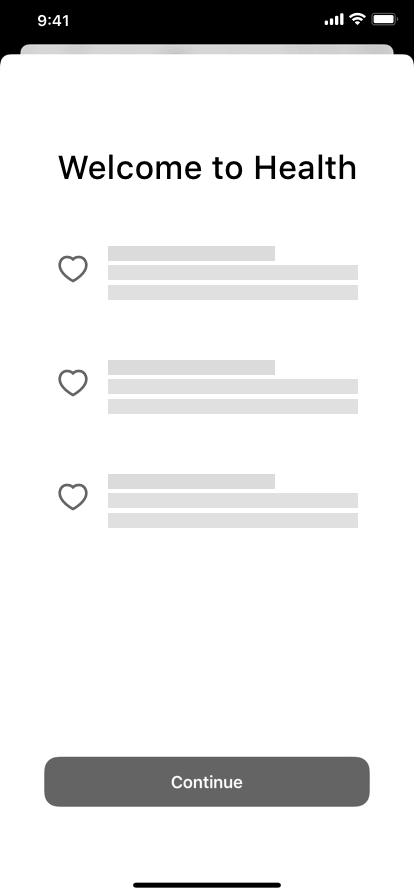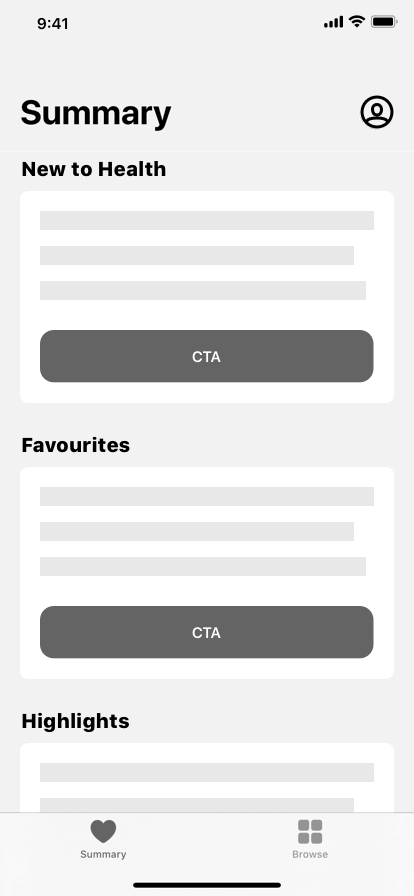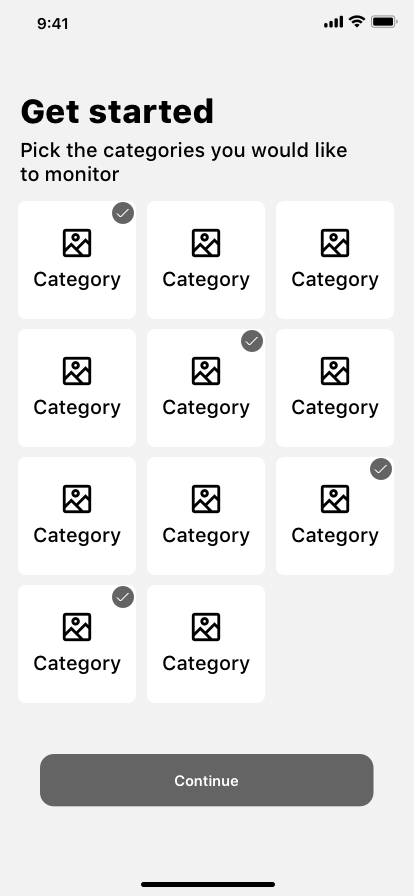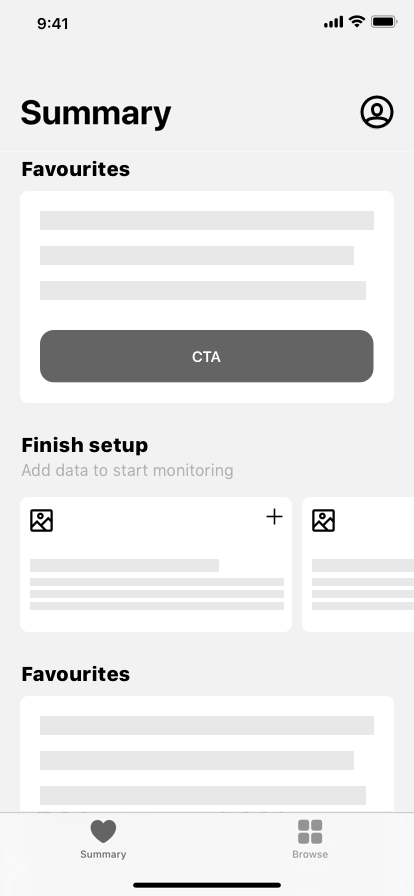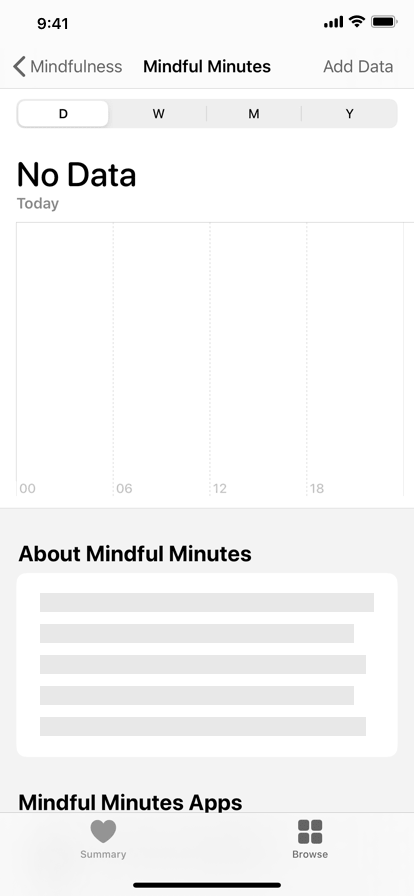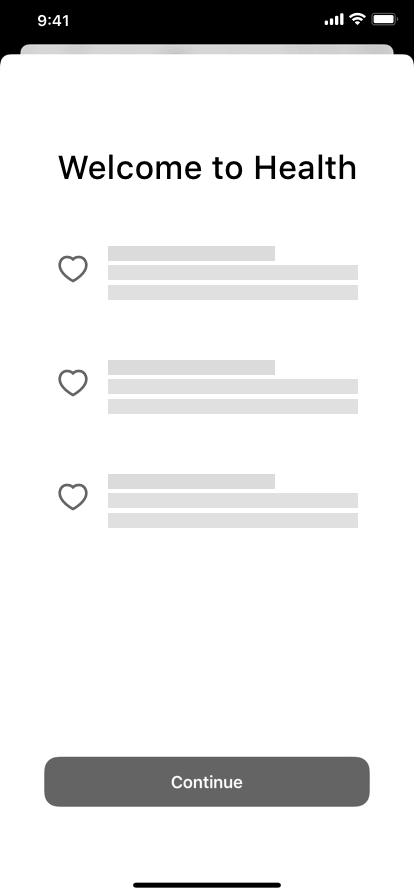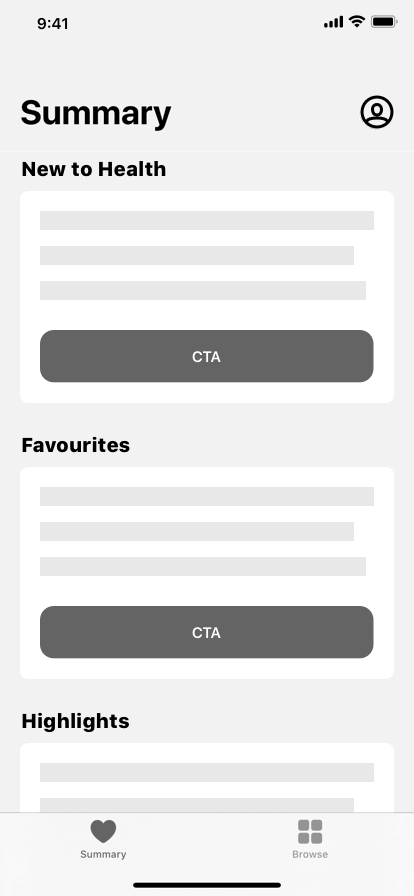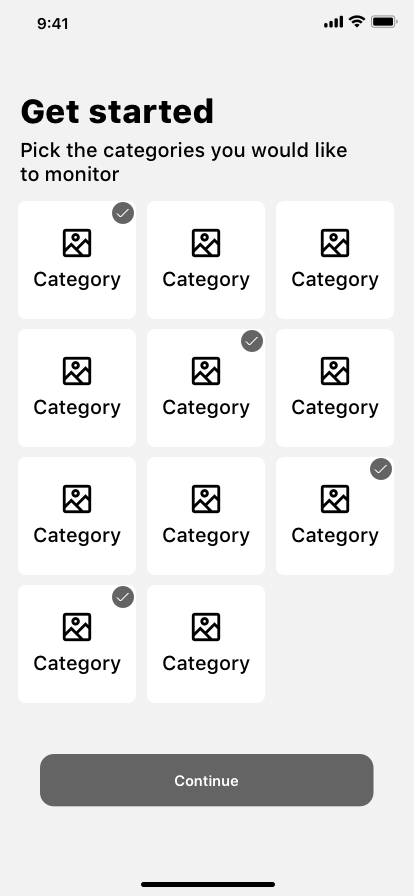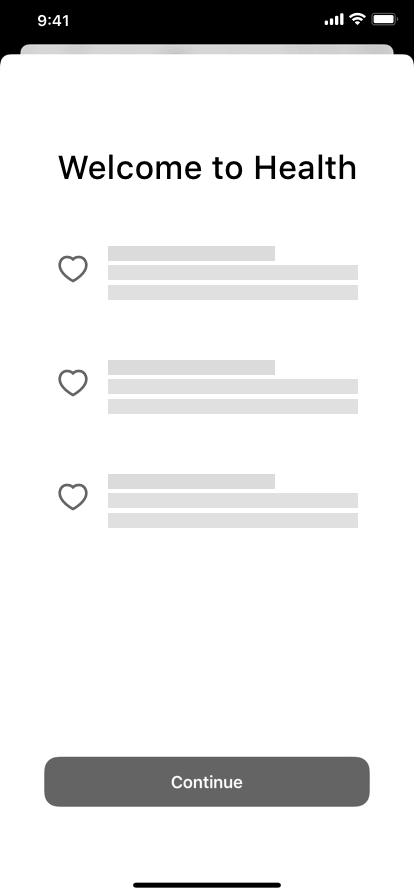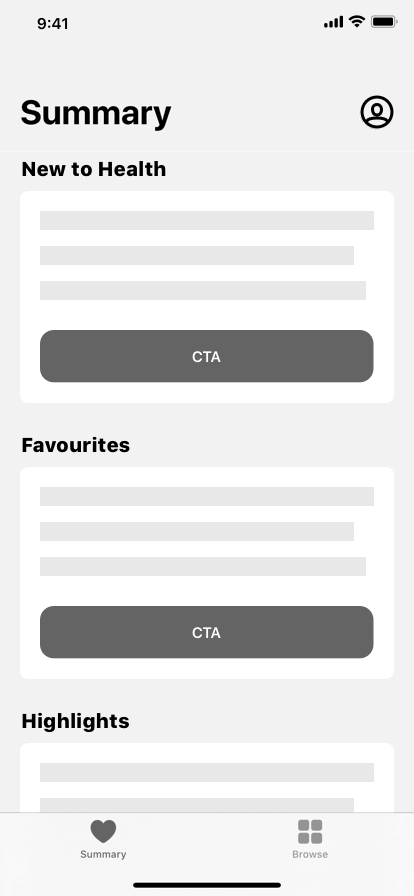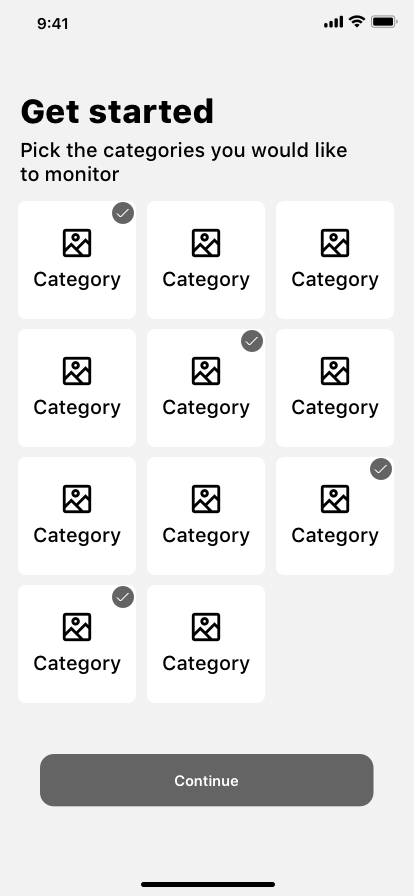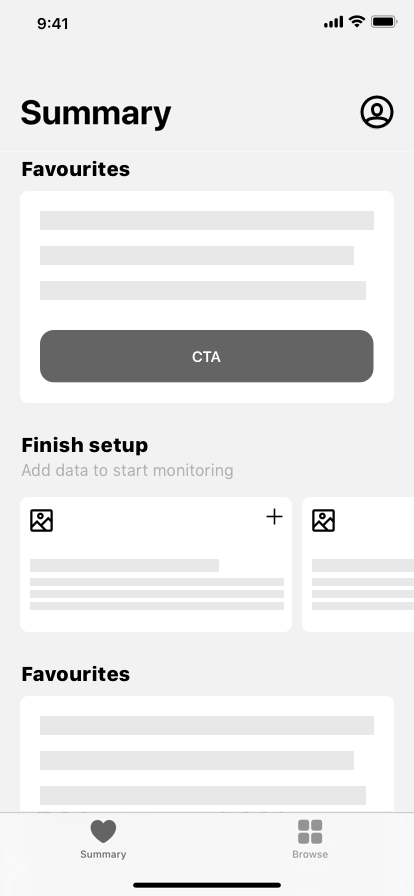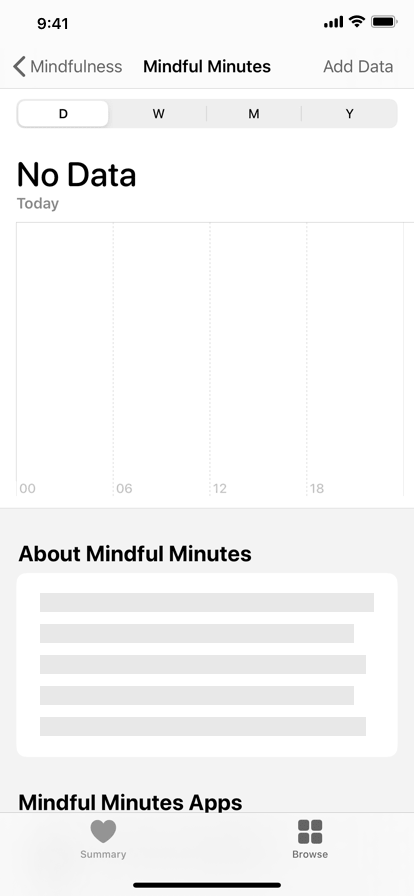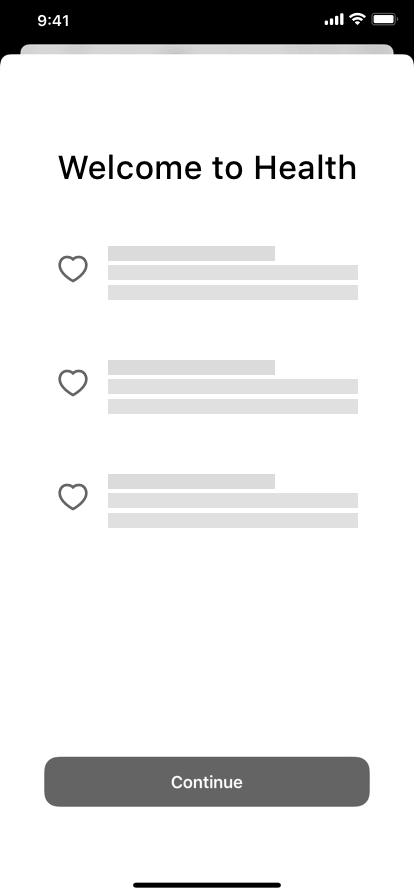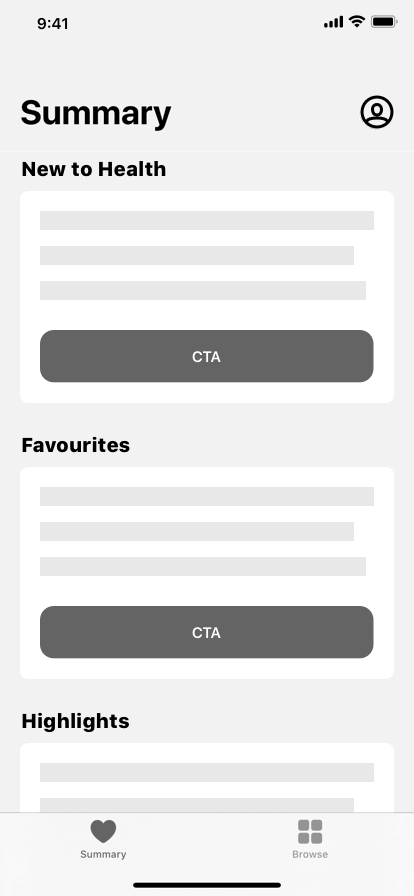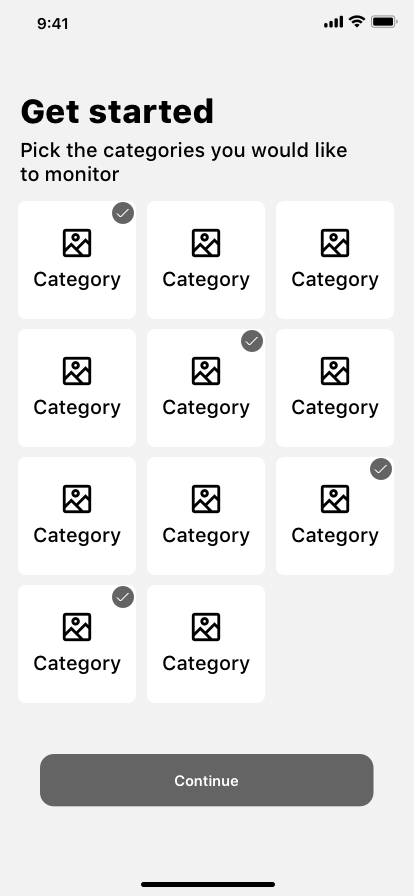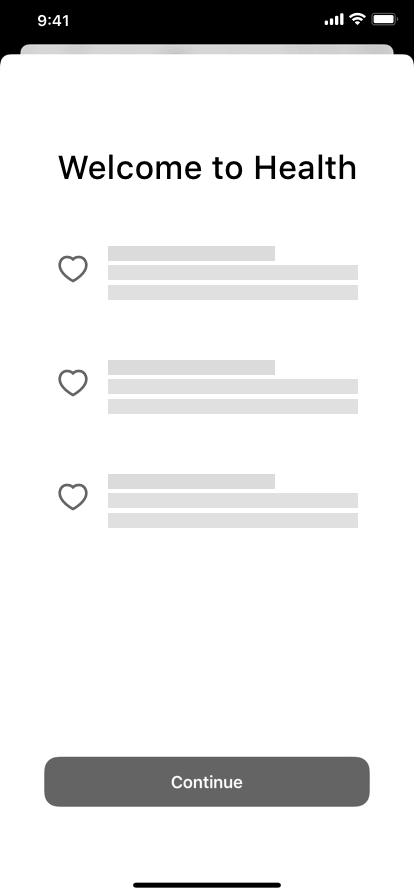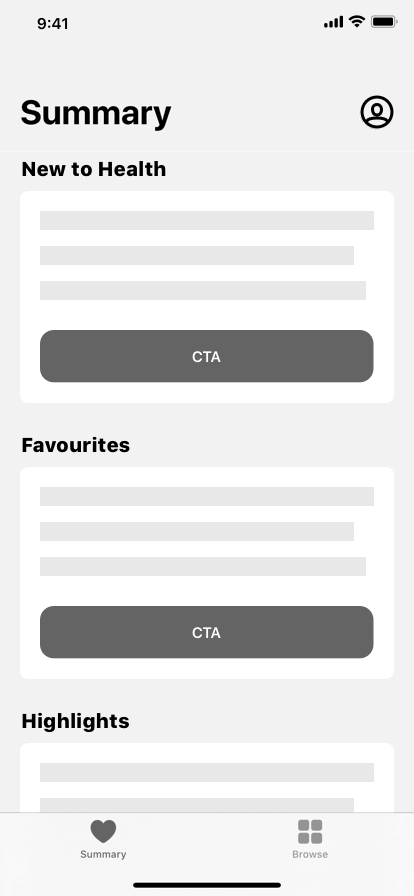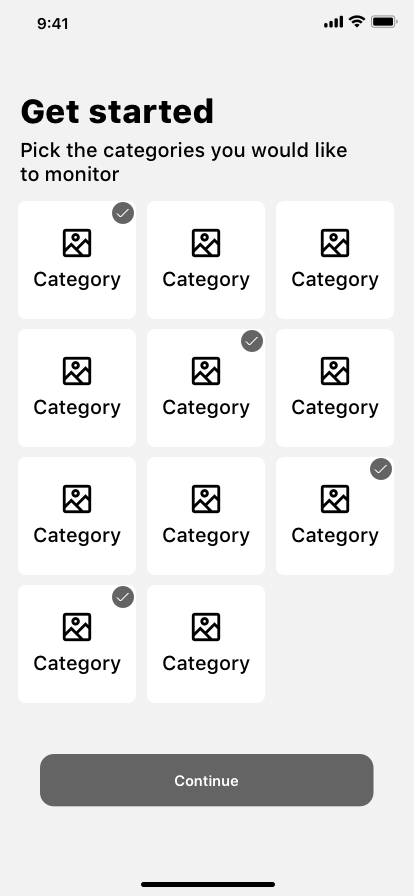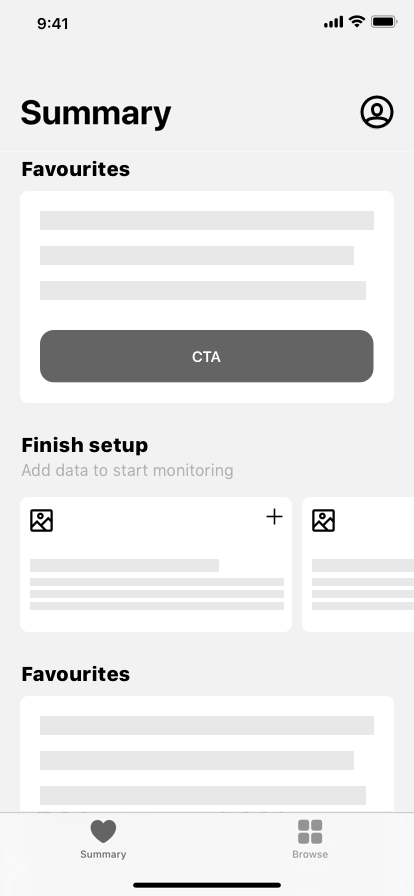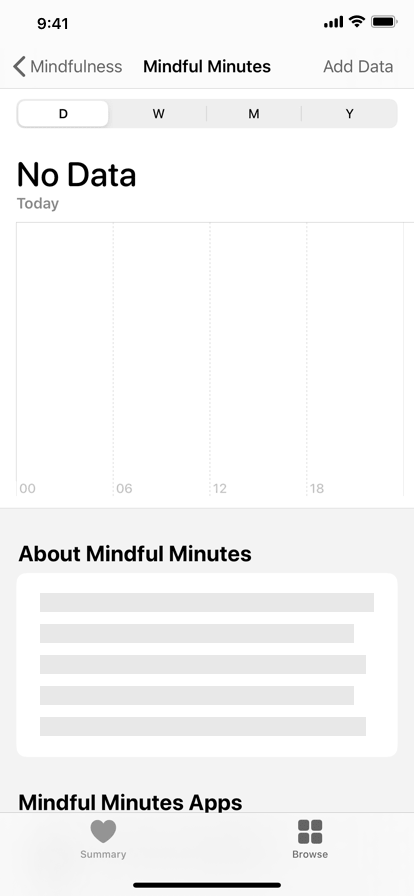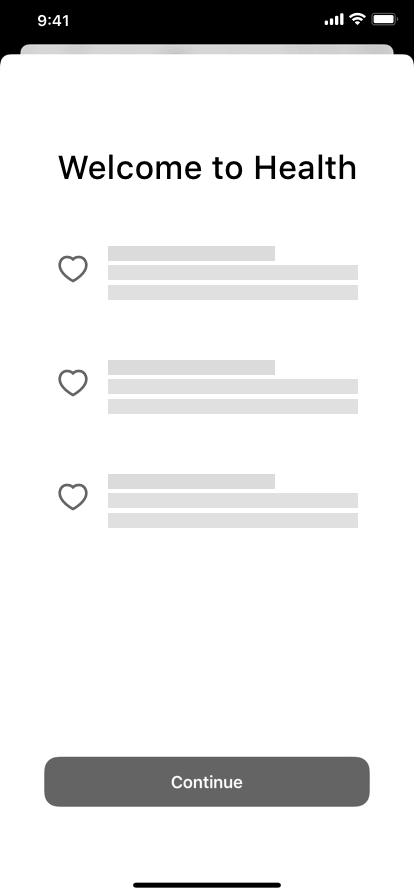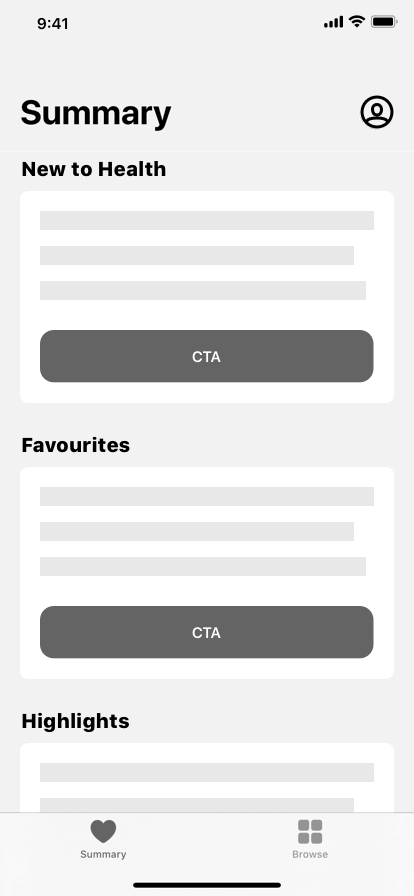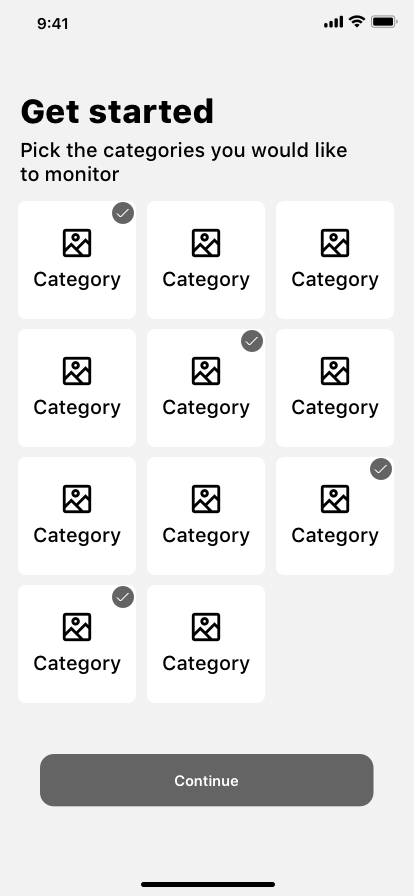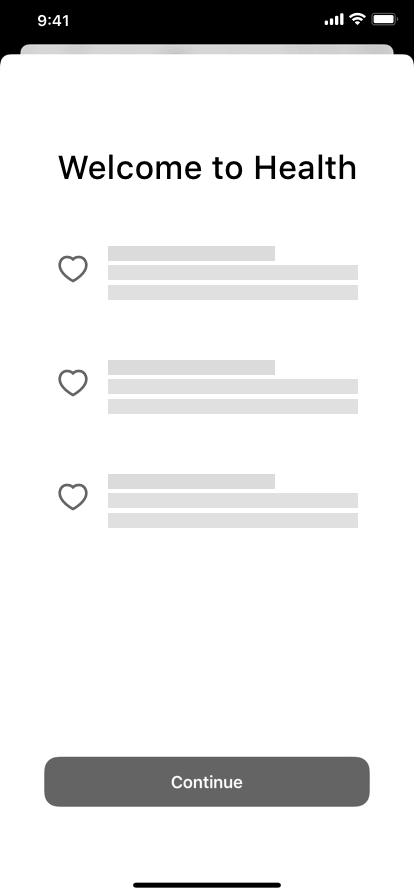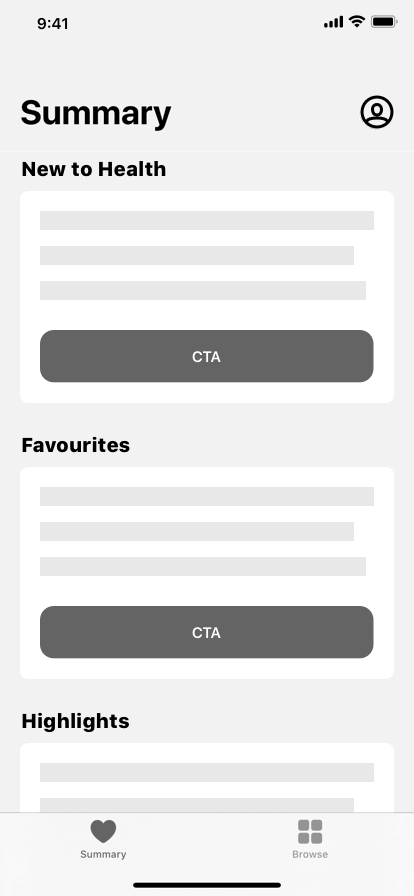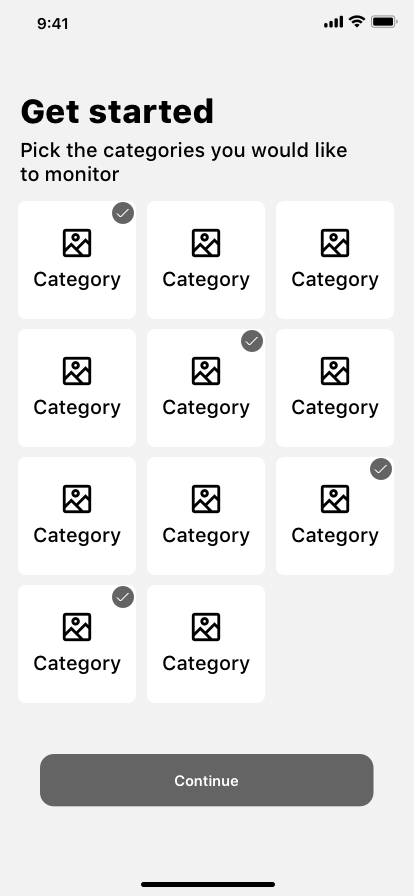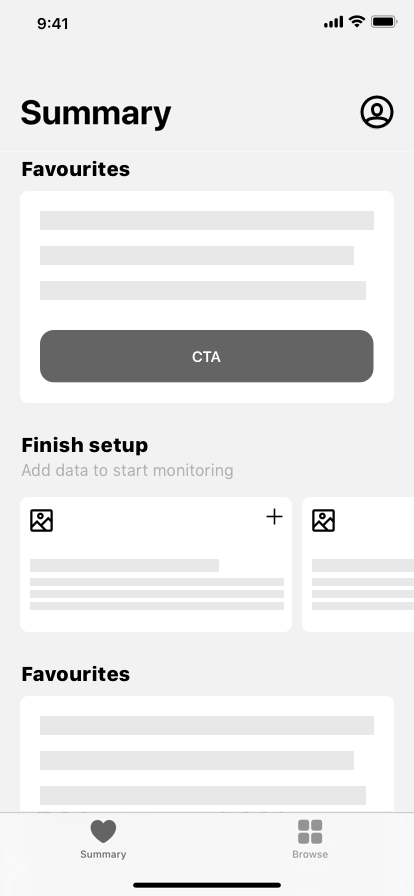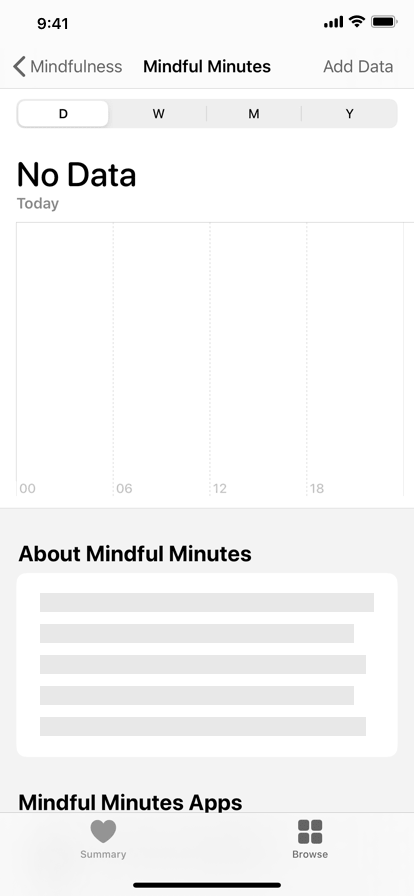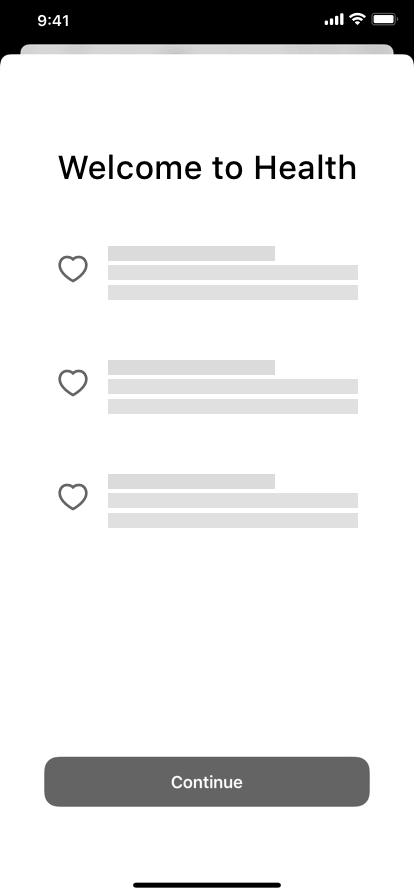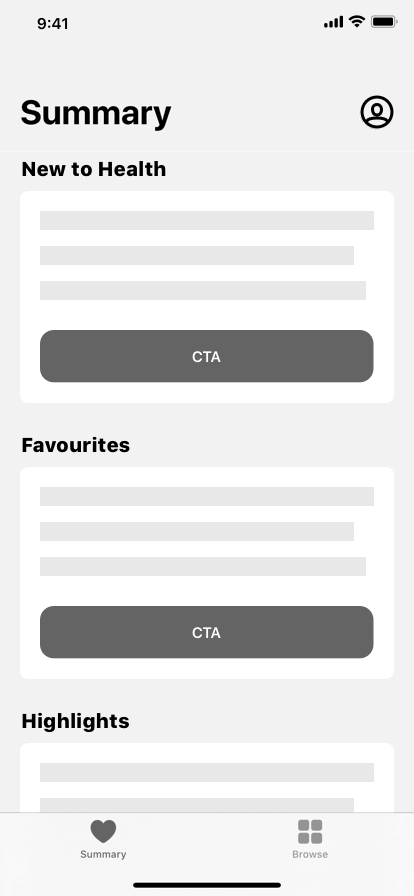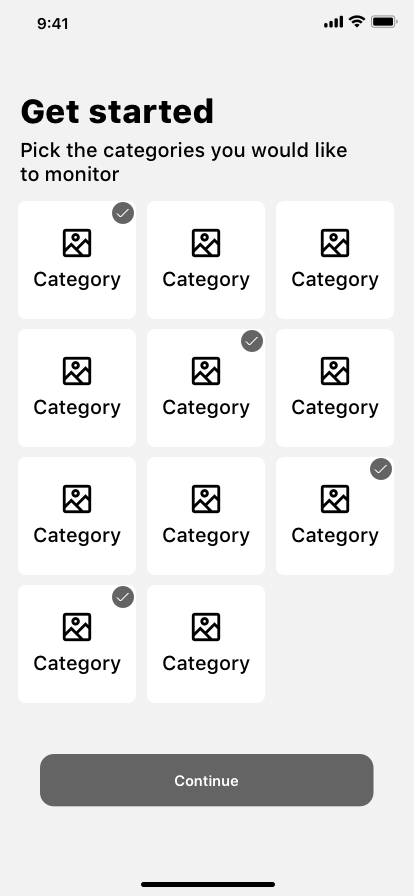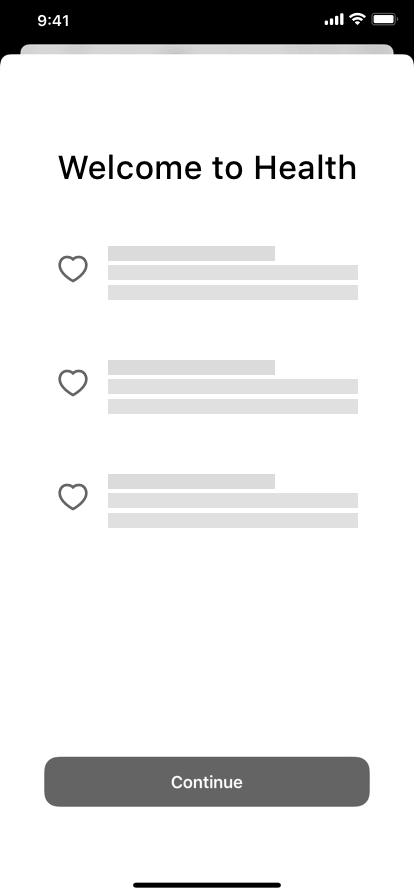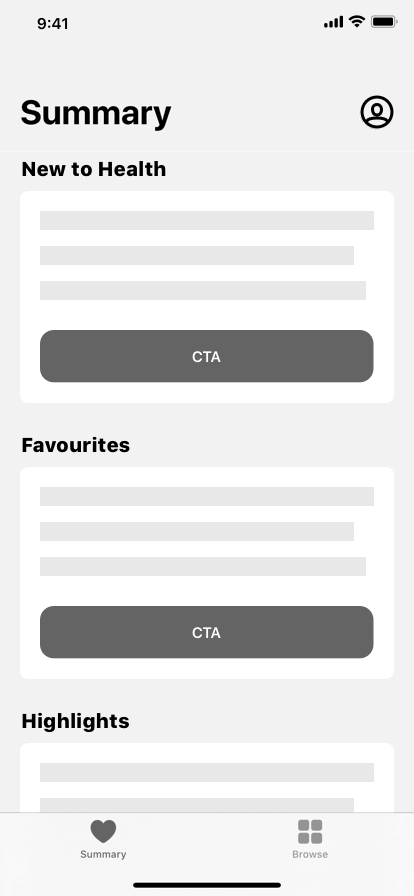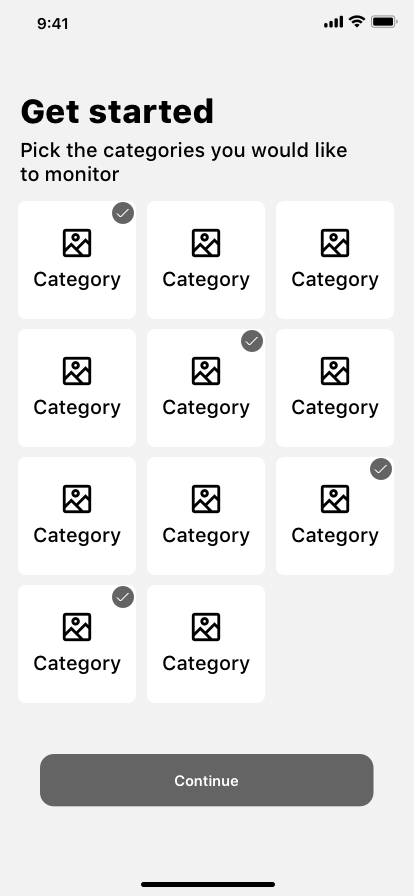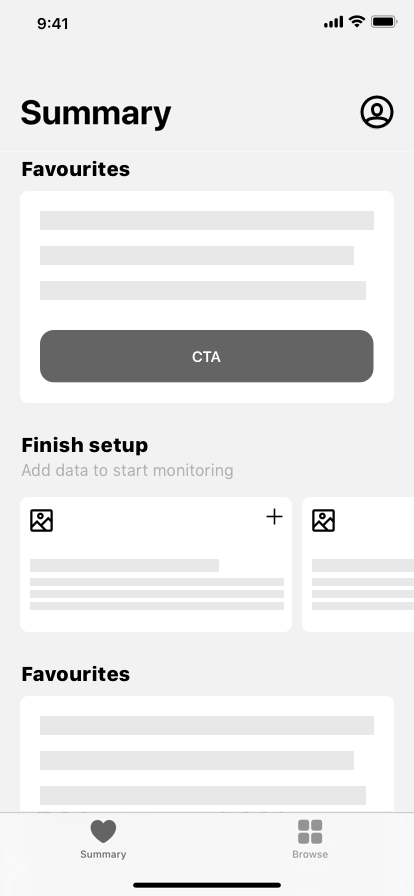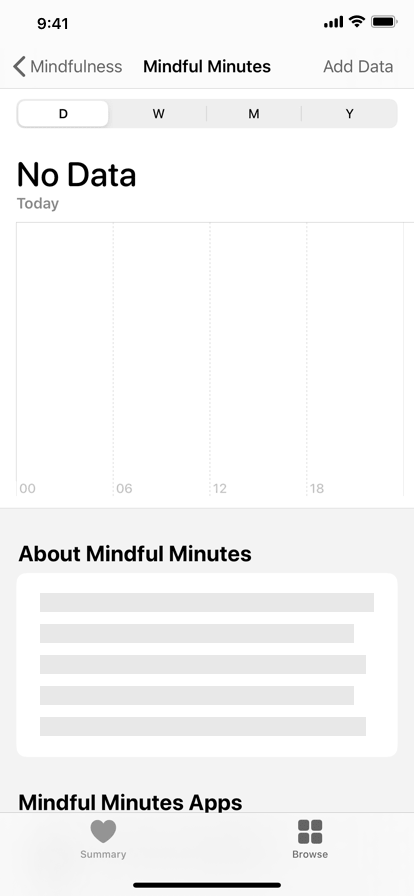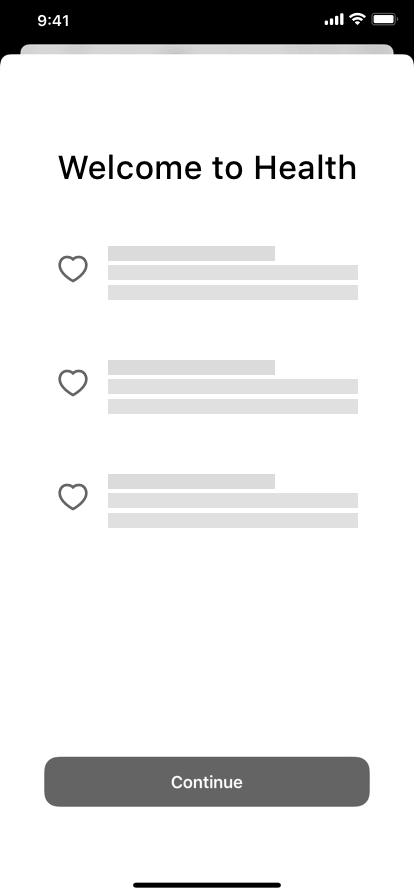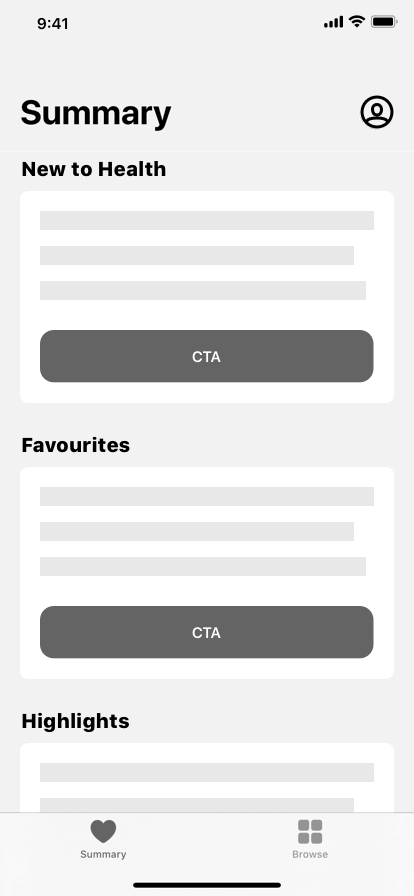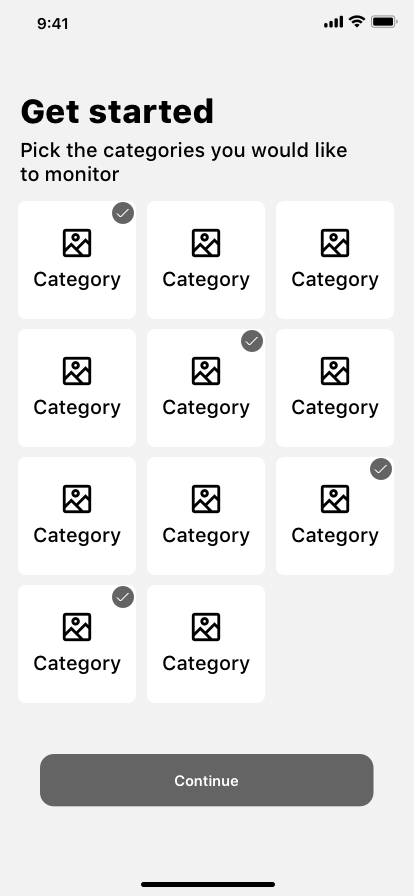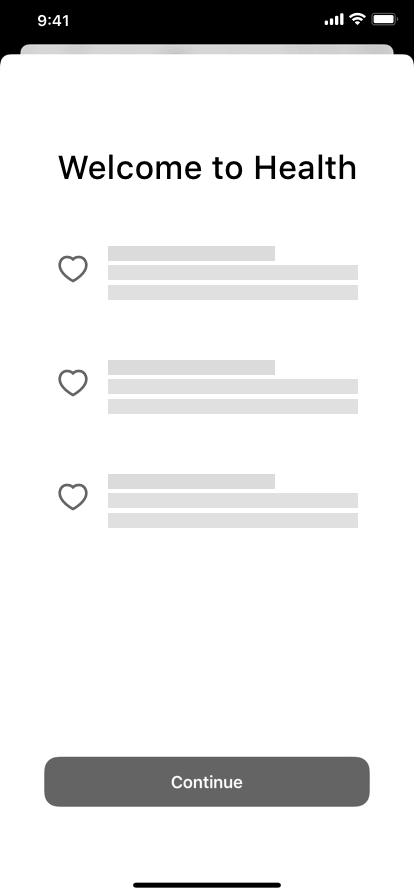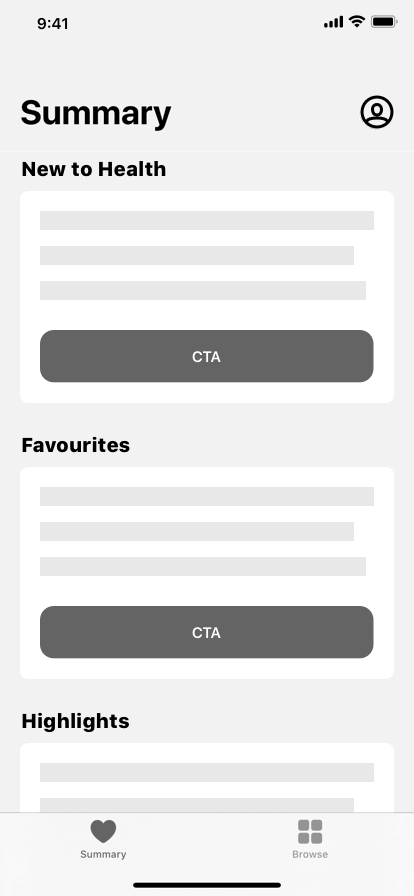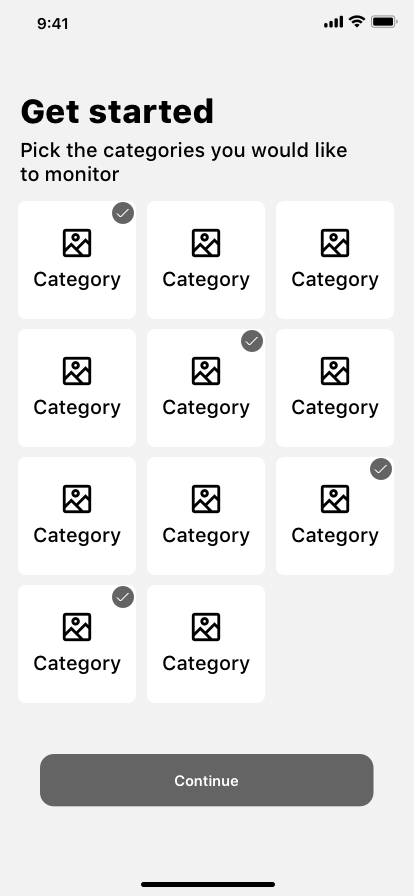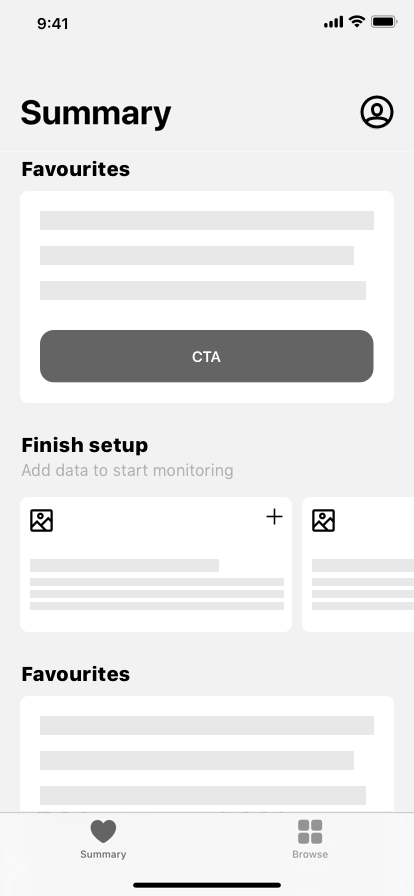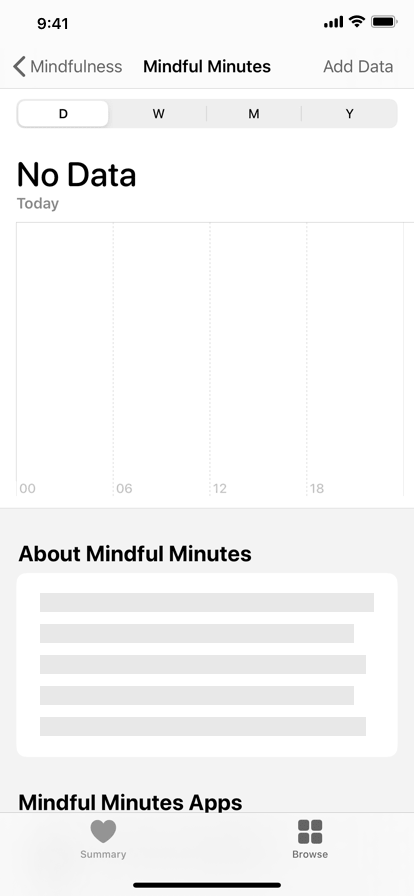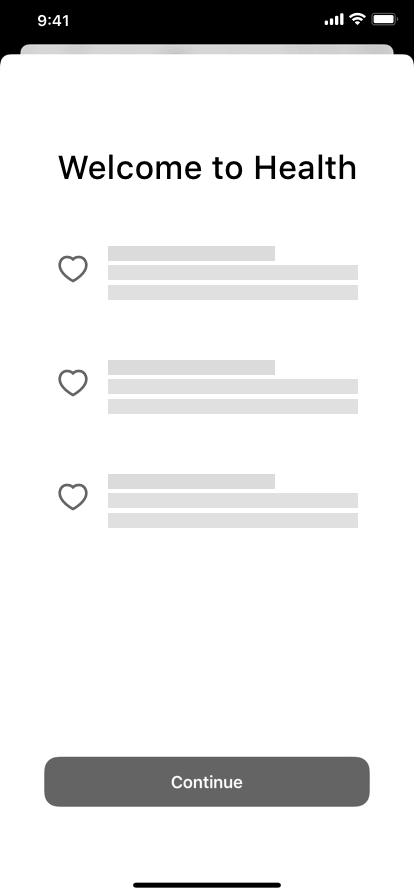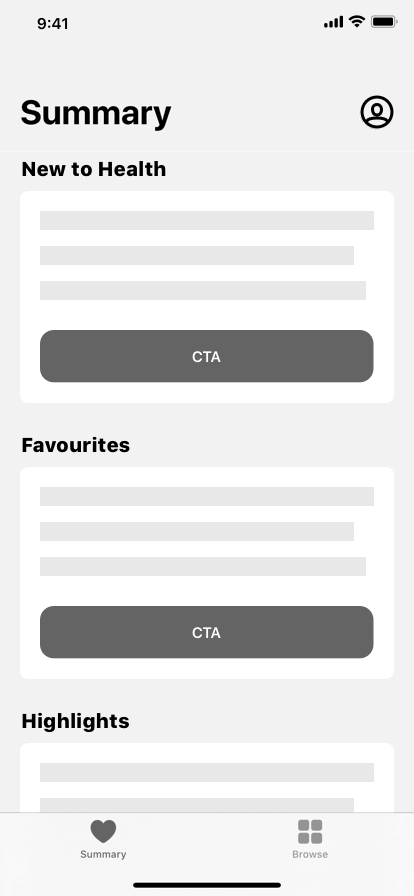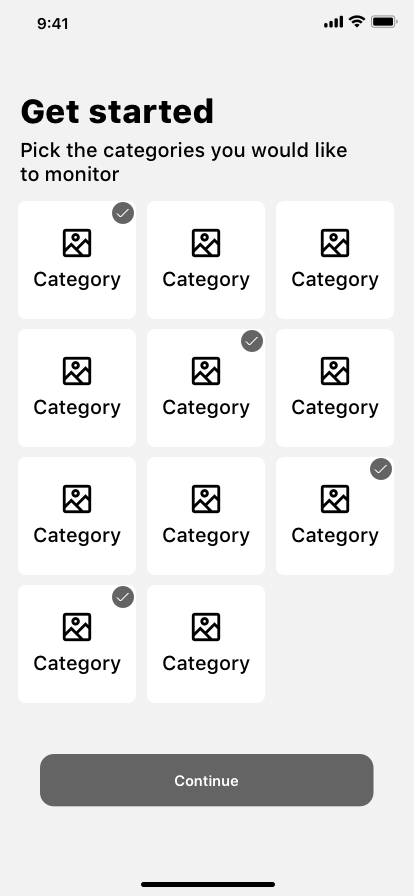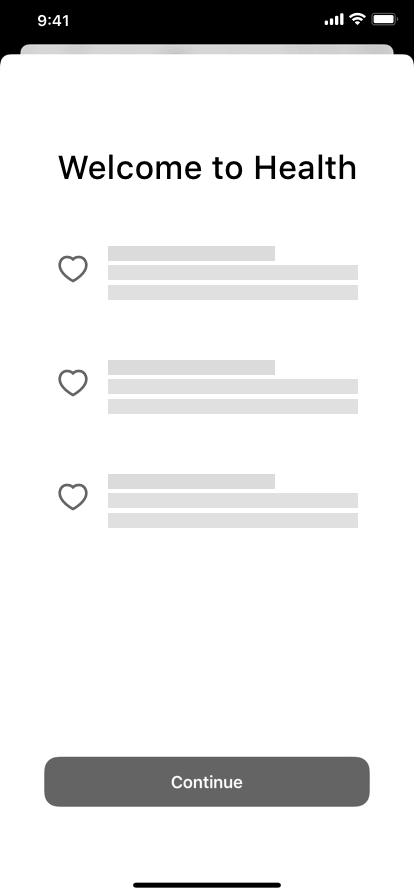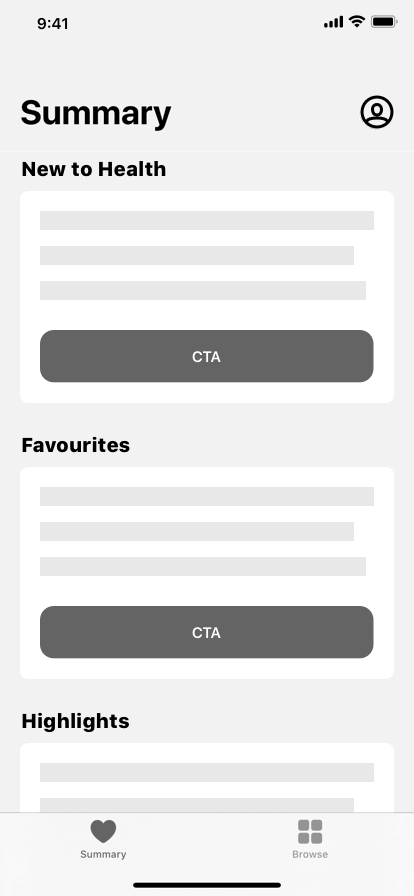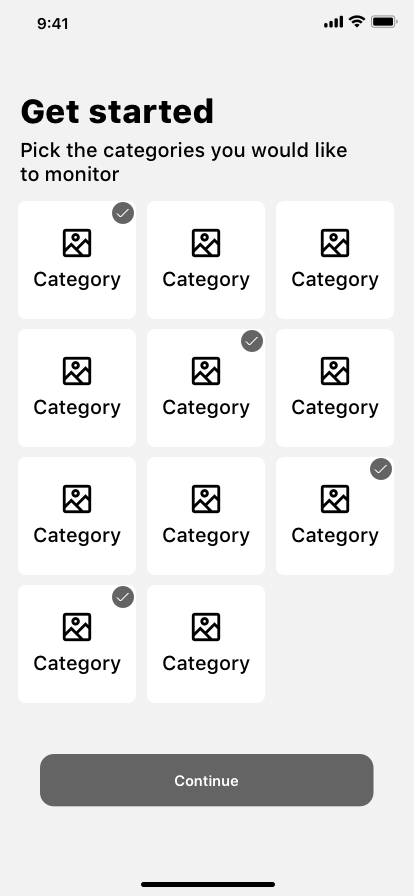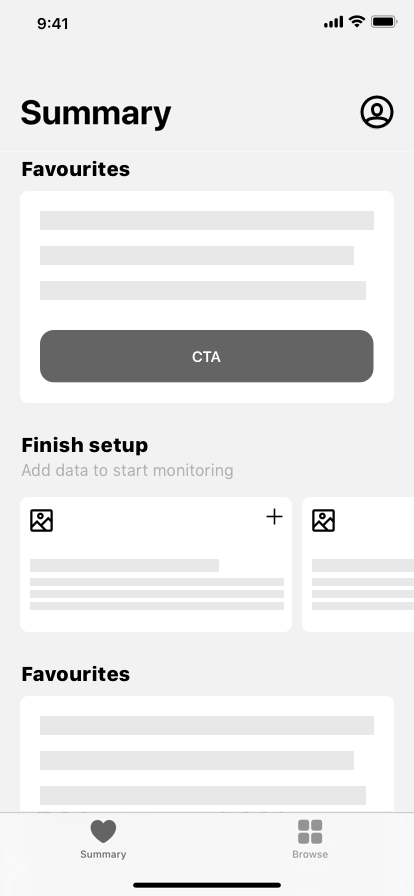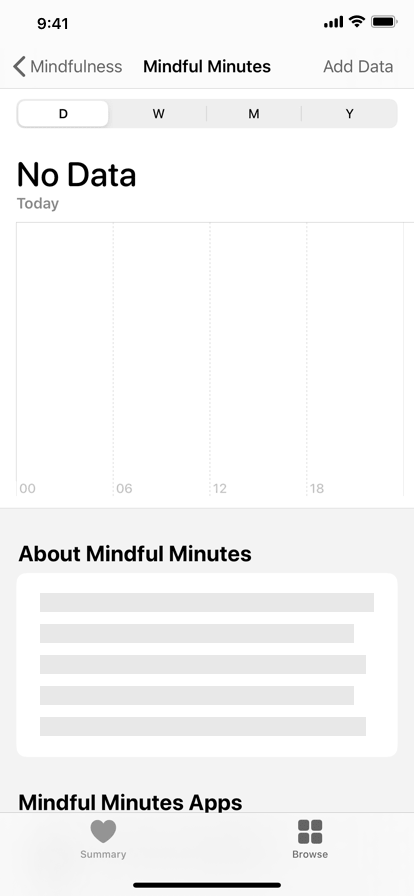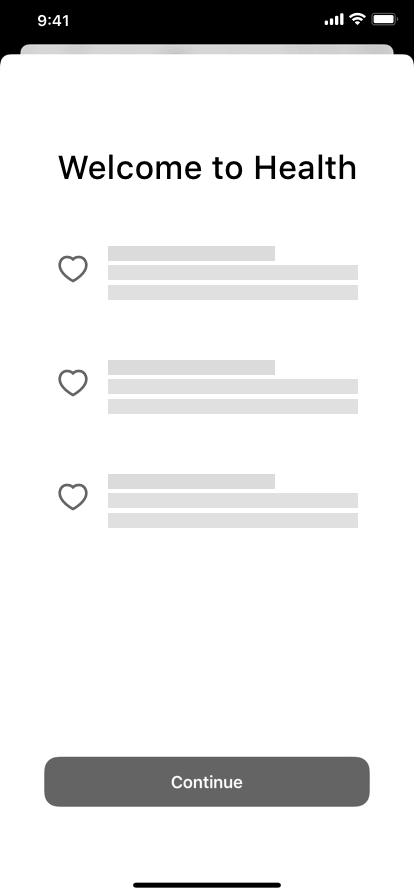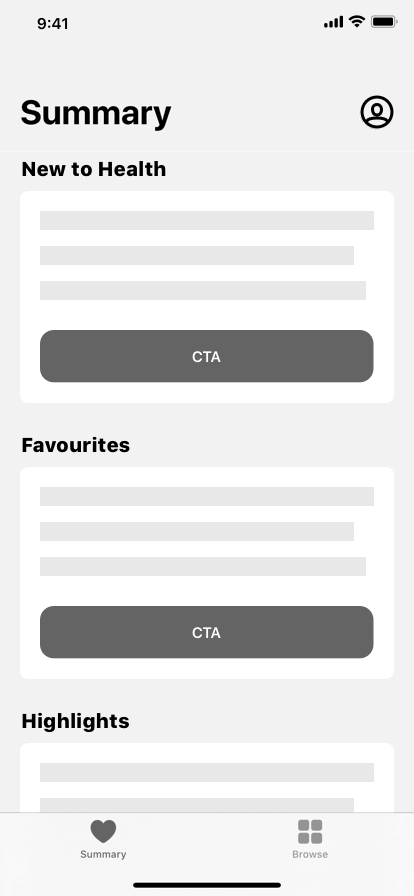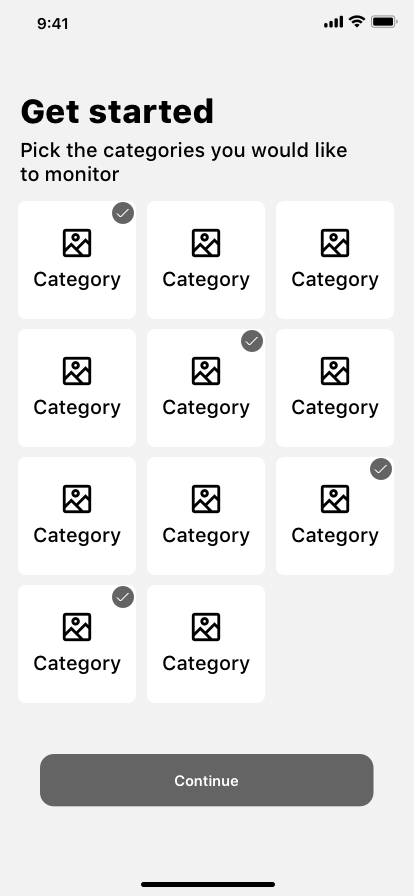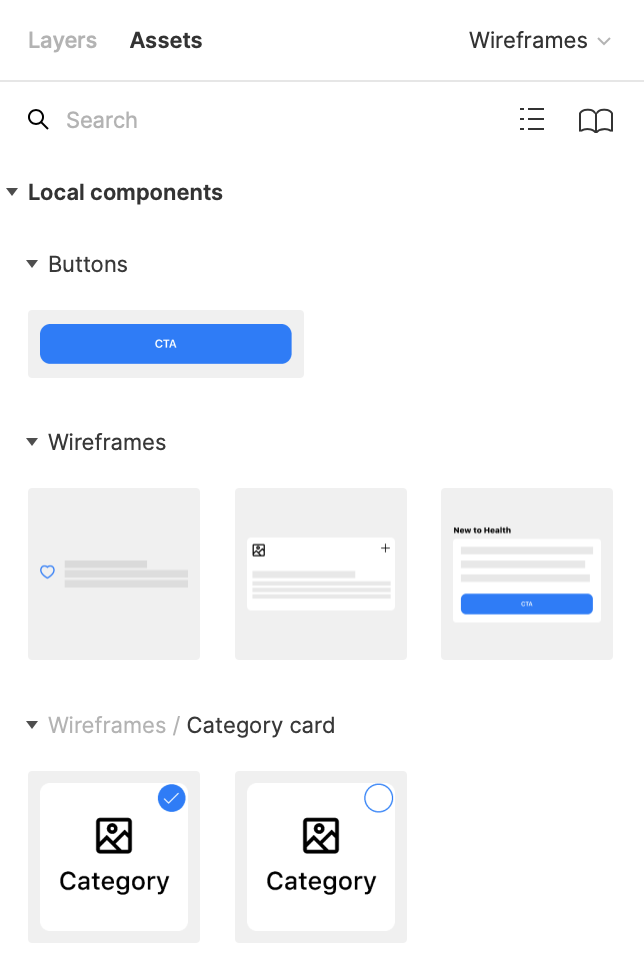 Designing with efficiency
When designing, it is important to work efficiently and build reusable components on the go. In Figma, these are called Assets.
Other good practices include the project set up whereby Wireframes, UI, and Assets are each available on a different page.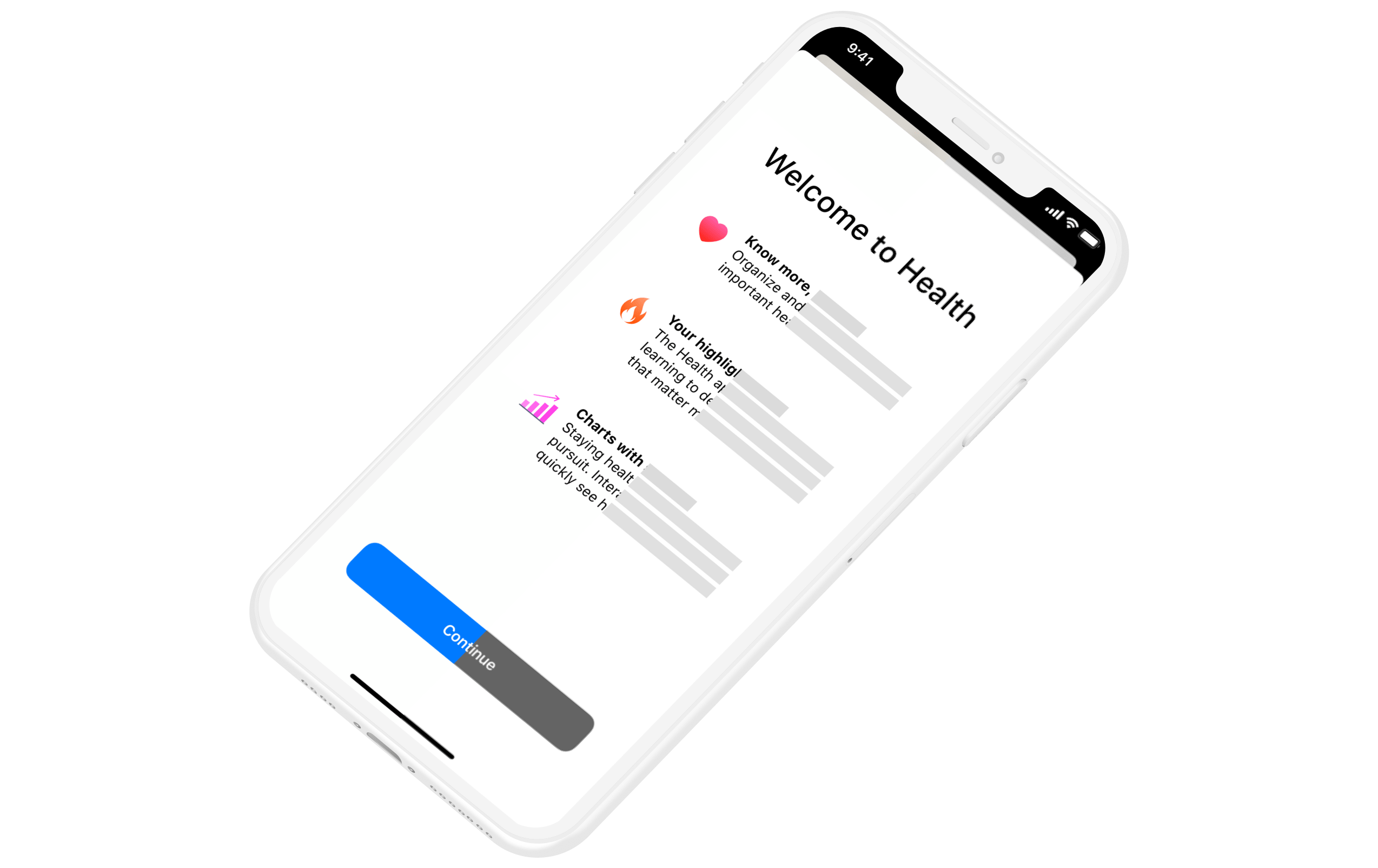 From wireframes to visual design
One of the challenges here, in moving to visual design, is that I don't have access to the style guides and components. Therefore, in order to produce a UI that is consistent and integrates seamlessly, there were some trial and error.
So what are the next steps?
There is a multitude of next steps now that the UI has been produced:
Check for accessibility - WCAG 2.1 compliant




Get validation through user testing

Capture any missing edge case

Define the micro-interactions

Further testing and iterations
As mentioned above, it is vital to test this new approach with new users to gauge their reaction and behaviour towards it. A test plan would be built and submitted to a carefully chosen panel of users on platforms like usertesting.com. Designs would be communicated via a clickable invision prototype.